Pucker Stick: The Last Lip Balm You'll Ever Need!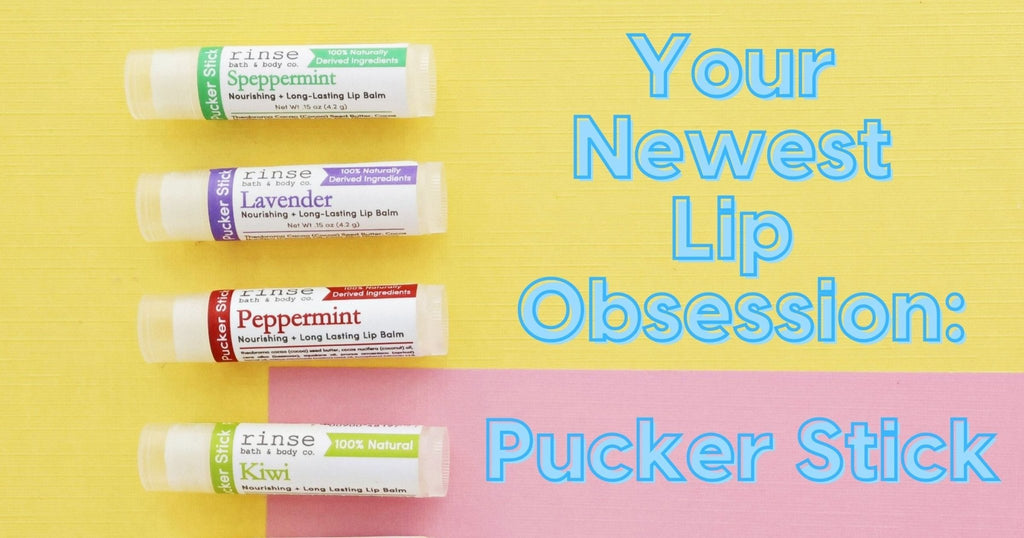 It's been said that life is one grand adventure - and one endless search for a lip balm that actually works! We all know the struggle, right? Having a trusted go-to lip balm is critical, but finding one that's up to the task is not easy. Lip balm is one of those funny products that doesn't always get the attention it deserves. It can easily fly under the radar, until you reach for it and can't find it or, worse, find that your lip balm doesn't actually give you relief from your dry, chapped lips. Studies suggest that Americans spend $200 million annually on lip balms - whoa! We can only imagine how many of these end up lost (it happens) or in the trash because they simply don't get the job done! We have been there. We have tried them all, only to find that many lip balms on the market today miss the mark in some way. Some are too heavy, too thick, too greasy, too messy, too smelly,… the list goes on. One other huge issue is that many of the lip balms on the market include ingredients that ultimately leave your lips drier than if you had never used them! How ironic is that! The frustration of finding a lip balm that actually works was something we felt in our souls. We felt like Goldilocks, trying everything but yet we never could find a product that was "just right". So we made one – Pucker Stick! It took us over 1 ½ years to get the recipe perfected, but we think you'll agree that this one is the last lip balm you'll ever need to try!
So what sets Pucker Stick apart? We created Pucker Sticks with all-natural ingredients that truly nourish the lips and leave them soft and hydrated! Many lip balms contain a long list of synthetic ingredients that make it really hard to know what you're actually putting on your skin. Some even include pesticides, petrochemical additives, fragrances, and more. As if that weren't concerning enough, many of these products include ingredients that actually can contribute to the drying of skin such as menthol, salicylic acid, and cinnamic aldehyde. The irony of using these ingredients is that sometimes standard lip balms can provide a moment of relief, that is then followed by a longer period of dealing with lips that are more dry and chapped than before you ever used the lip balm. Simply masking the problem wasn't satisfactory to us. There HAD to be a better way, and we set out to find it! We wanted to keep it simple and choose easily recognizable natural ingredients that deeply nourish so that we could treat the issue at the root of the problem, and so you never have confusion about the product going on your delicate skin.
Ingredients in Pucker Stick include light, easily absorbed moisturizers:
Apricot Kernel Oil – In addition to being incredibly nourishing, this oil is naturally high in Vitamin E which is excellent for helping with skin elasticity. It is also known to be helpful with improving skin tone and texture!
Coconut Oil – This oil is one of our FAVORITE natural ingredients! This powerhouse oil is highly moisturizing which makes it ideal for a lip balm. It's full of super nourishing fatty acids, vitamins, and minerals that are perfect for retaining moisture and giving you smooth and soft lips!
Cocoa Butter – This amazing natural ingredient comes from the cocoa bean (which means obviously we love it already!) It's a natural emollient and contains vitamins A and E. It is known as an excellent full body moisturizer, and those same benefits transfer perfectly to the lips!
 Additional ingredients are:
Castor Oil – This natural humectant helps the lips to retain moisture which is exactly what you want a lip balm to do!
Beeswax – This popular ingredient in many skin care products and is ideal for a lip balm. Benefits of Beeswax for the lips include the fact that it's highly moisturizing due to it's natural emulsifiers. It also is highly protective. It has antibacterial properties that can protect skin and it may even help protect your lips from harmful UV rays.
Vitamin E – Why not add a little extra Vitamin E!? It's perfect for helping to boost circulation and helping to generate new skin cells, keeping those lips super fresh!
Essential Oils – The perfect way to add a pop of scent!
At this point we've covered most of the ingredients in Pucker Stick and, as you can see, they are all super natural and have so many benefits! We could have stopped there and we'd probably have a pretty decent lip balm, but around here we don't go for "good"… we go for GREAT! Which is exactly why we added this last ingredient, the real MVP… Squalane Oil! You've heard us sing the praises of this miracle oil before (if you haven't, check out our Squalane blog here!), and it lives up to it's reputation in these lip balms! Squalane Oil is derived from the olive and is quickly absorbed into the skin. It has fantastic healing properties which is exactly what you want in a lip balm!
So to recap, Pucker Sticks are fantastic lip balms made with a creamy, nourishing blend of natural ingredients that glide on smooth. These lip balms have a light feel that never leaves you with a thick, greasy, or waxy film on your lips. Pucker Sticks easily absorb into the skin and deliver the nourishing hydration where you need it! Additionally, Pucker Sticks are:
Paraben Free
Gluten Free
Cruelty Free
Travel Friendly
Hand Made in the USA
Once you try Pucker Sticks, you'll never go back to any other brand! One of the best things about them is that they come in such a wide variety of fun flavors! There's literally something for everyone! Whether you're into fruity tropical flavors, warm and spicy flavors, sweet flavors - there is a Pucker Stick for you! 
These little sticks of goodness make amazing gifts as well! They're truly life-changing… your friends and family will forever thank you! They're also perfect for keeping around your house, in your car, in your purse, at your office… anywhere that you spend time is a good place to keep Pucker Sticks! They come in fun bundles as well as individual sticks!
In addition to Pucker Sticks, we also created Pucker Polish which is a lip scrub that helps to prepare lips for Pucker Stick lip balms! Pucker Polish is made of super finely ground Apricot Kernel Meal. These tiny granules make for a gentle and effective exfoliant that is perfect for lips! It's a great way to slough off the dry and dead skin from the lips (and surrounding areas) to get them nice and polished up to make a great base for moisturizing them with Pucker Sticks! We bundled them up in our Pucker Packs that pack a 1-2 punch of exfoliation and hydration!
As always, we never want you to just take our word for it! Check out these amazing reviews from satisfied customers who love their Pucker Sticks!
Customer Testimonials:
"If I was stranded on an island I'd bring this. I'd probably bring other things too but this is something I'd definitely want. This is my absolute favorite lip balm of all time. I've finished two sticks, and I wear it everyday. I put it on before bed and it's still on when I wake up. I love it so much I once bought three at a time." - Cece
"Really great lip balm. Very nourishing and doesn't dry my lips out at all. I love it. I actually bought it at the Disney location in Florida and forgot about it. I found it in my make up bag and put it on and my lips feel amazing. I have super dry lips and this really does the trick. Super glad I bought it and I will be buying more!" – Heather
" This was the first item I ever purchased from Rinse and let's just say I'm obsessed now! Goes on smooth and doesn't leave a white residue." – Cheryl G.
"I am addicted to your lip balms. Always have one on me at all times. The scents are amazing and they glide on nicely. Highly recommend!" – Corrine K.
"I've tried everything in the Chapstick world and pucker stick is the only one that has healed and smoothed my lips! My must have item and my favorite product on the market by far. Absolutely recommend trying this pucker stick!" – Andee V.
If you want to end your search for the perfect lip balm today, go ahead and order a Pucker Stick or two! There's sure to be a flavor that fits you! Check out some of our best sellers below!