5 Simple Steps for Summer Ready Feet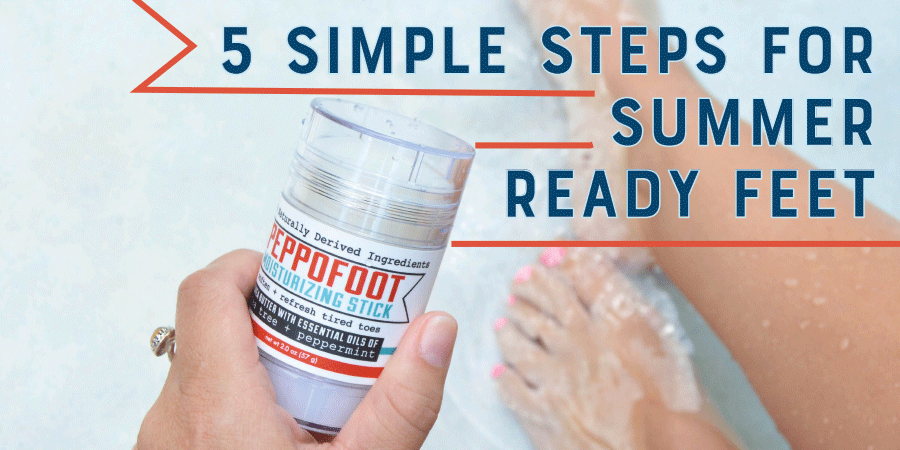 The weather is warming up and the days are getting longer which can only mean one thing… Summer is here! We all love the magic that Summer holds. It's a time when we slow down the pace of life a bit.  Kids are out of school, we get to enjoy vacations, and of course spend LOTS of time outside! Who doesn't love catching a baseball game, grilling out, or hanging at the pool, lake, or beach!? Pretty much all you need to enjoy this time of year is good food, good friends, and a good swimsuit!
There is one more thing that can make this time of year far more enjoyable though, and that's having Summer ready feet! After spending all winter cooped up and covered by socks and shoes, our feet are about to be set free and enjoy lots of barefoot moments! For most of us, our feet need a little help to make the transition to being Summer ready! The good news is, you don't need to spend a lot of time or money to get your tootsies in top-notch-shape! Our Peppofoot line of products was designed to help you naturally and effectively get soft, touchable feet! You might be surprised at how easy it is to go from gross winter feet to Summer ready feet with just a little TLC! We're breaking down our 5 easy steps for Summer ready feet below!
Step 1 – Soak
The very first step to getting your feet prepped for summer is to give them a nice, soaking foot bath! Not only is this step super relaxing, but it also can provide a wide variety of benefits! We recommend adding some Epsom salts to your foot bath to get the most out of this step. Epsom salts have been used for thousands of years to help with a wide range of ailments. Many people find that using Epsom salts can help to relieve aches, pains, and can even decrease inflammation. Considering the many miles we put on our feet, they could surely benefit from that! Soaking the feet can also help to reduce odor and may even help to decrease roughness, leaving you with softer skin.
Check out our Speppermint Epsom Salt Soak for a great Epsom salt addition to your next foot soak! This contains a blend of salts and invigorating Peppermint and Spearmint essential oils that will give you a luxurious soaking experience while soothing your tired feet!
Step 2 – Exfoliate
When you have finished soaking your feet, it's a great time to go ahead exfoliate them. Exfoliating the feet helps to slough off dead skin cells that can make the feet look unattractive and can also make the feet smell. While our feet are pretty tough, you don't want to use an exfoliator that is going to irritate your feet. We recommend using Peppofoot Polish Exfoliating Foot Scrub. This scrub features powdered pumice which acts as an effective, natural & gentle exfoliator. In addition, this scrub contains a moisturizing blend of Shea Butter and Avocado Oil so that it inourishes the feet as it exfoliates them.
Step 3 – Moisturize
Now that you have soaked your feet and exfoliated them, it's time to lock some moisture into those perfectly polished peds! It's actually a good practice to moisturize your feet daily. Many people experience dry, cracked feet on a regular basis. This is such a common problem because our feet don't actually have the oil glands that are found on most other parts of the body. Without a constant supply of oil, feet quickly become dry and cracked which can be unsightly at best, and painful at worst! In the past, moisturizing feet was a bit of a messy ordeal that involved getting greasy creams and lotions on your hands, slathering them on your feet, and then having to awkwardly tip toe to the nearest sink to de-grease your hands! Yuck! Fortunately, those problems are no more thanks to Peppofoot Moisturizing Stick!  
Step 4 – Trim
At this point, you've put in the work to make your feet feel amazing, so it's time to level up and make them look amazing by giving your toe nails a trim! Proper nail care is critical for having truly healthy feet. To complete this task, you will simply need a clean set of sharp nail clippers and a nail file. It's best to trim your nails straight across, giving them a straight or boxy look rather than rounded. This gives a clean and professional look, without putting you at risk for ingrown nails. Once you have finished trimming, give them a completed look by filing them.
Step 5 – Paint
Last step, best step! Make those toes pop with some fresh nail polish! This is where you can let your personality shine! Feel like making a statement? Go bold with a bright, eye catching color! Looking to go more subtle? A soft pastel will do the trick! The opportunities are truly limitless, so have fun with this part!
If you've made it through these 5 steps, but are still hungry for more, don't fret! Here are some "bonus steps" to show your feet a little extra love in between weeks!
Keep your feet CLEAN! One of the best things you can do to keep your feet Summer-ready is to make sure to clean them well every day. This task calls for something a little more tailored to the job than your regular body soap. You want to use a soap that will clean the feet and also provide some additional exfoliating power. We recommend using our Tea Tree Mint Soap Stick. This handy soap comes in a super convenient twist-up tube which makes it convenient to take with you anywhere (throw it in your gym bag, travel bag, etc). This unique soap helps to give your feet a double cleansing thanks to the soap with Tea Tree Oil that also includes some powdered pumice for a little extra exfoliation!
Stay cool with a daily spritz! Your feet carry you around everywhere you go. In the Summer time, that can definitely mean that they get hot and sweaty! Give them a little relief from the heat with a cooling spritz of Peppofoot Refreshing Spray!
After moisturizing, throw on a pair of comfy socks to help retain the moisture! Cotton socks do a great job of helping to keep the moisture in, while helping to keep dirt and debris away from your freshly hydrated feet!
Get yourself a pair of cute sandals! There's no better way to show off your Summer-ready feet than with a pair of cute sandals! Make sure to choose some that give your foot the support it needs!
Feel a blister coming on? Don't wait for it to fester… nip it in the bud! Try treating it with Calendula Salve. This natural salve has been know to help with naturally treating a variety of skin ailments and wounds.
Protect your feet from the sun with SPF sunscreen! It's easy to forget about the tops of your feet when lathering up for a day outside. However, it can be a critical mistake that you pay for later if your feet get burned! Remember to cover them well! If you do end up suffering from a sunburn on your feet, try using a bit of aloe to give them some relief.
Treat your feet to a massage!
Check out these awesome Rinse products to help get you on your way to those soft, Summer ready feet!