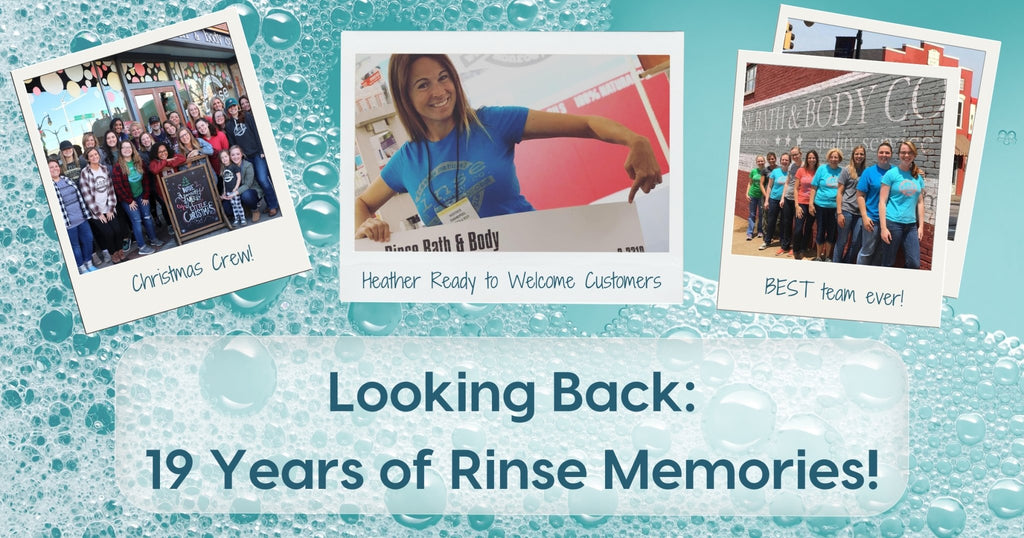 It's July which means the days are long, the sun is hot, and it's our Birthday month! Rinse officially turns 19 years old this month which is hard to believe! It's true what they say, time really does fly when you're having fun. We love celebrating BIG each and every year because each birthday signifies another year of getting to know and serve some of the absolute BEST customers on the planet! We love interacting with our amazing customers both in person and online. Your smiles and stories brighten our days and we couldn't be more thankful for each and every one of you! We feel like we have gotten to know so many of you on a personal level and it's truly an honor to have such a strong bond!
In honor of this milestone, we thought it might be fun to take a few minutes and tell you a little bit more about Rinse's story and share some fun facts! Many of you know that it all started back in 2002 because our owner, Heather, couldn't knit! Yep. She needed a hobby and tried out knitting only to discover it was an abject failure. Never one to give up, and determined to find herself a hobby, she took a soapmaking class where she absolutely thrived! She took her newfound knowledge continued to build her soapmaking skills, creating soaps for herself, then for friends and family, until she realized she had slowly built a business around her new passion. In 2003 she officially formed Rinse Bath & Body Co., and the rest is history as they say! Telling her story is always fun because of the plot twist. She set out to do one thing, but ultimately her "failure" at knitting led her directly to uncovering her talent and passion for soapmaking. There are some great lessons in Heather's story about being brave enough to try new things, not being disheartened by failure, and having unshakable determination!
We're thankful for Heather's determination and, because of it, a lot has happened since those early days in 2003! We've compiled some of our favorite "fun facts" to take you on a little trip down Rinse memory lane!
While we all know Heather as the energetic, spunky, fun-loving entrepreneur that she is today, just like the rest of us she had to start her career somewhere! Would you have ever guessed that her first job was actually at a skating rink in Chicago!?
Although Heather started making soaps in 2002, she didn't officially form Rinse until 2003. Her husband actually came up with the name and, together, they started the business which ran out of their apartment located in Aurora, Illinois. They then moved to Georgia and Rinse continued to grow and eventually came to occupy a commercial storefront in downtown Monroe, GA. As it continued to grow, the need for more space caused Rinse to move 2 more times (always in Monroe). Currently the store is located in a 1,200 square foot location in downtown Monroe with a separate office and warehouse location just a mile or so down the road!
Back when Rinse started, it sold a total of 5 different types of products. Today we have over 20 different types of products! You can find everything from soaps and lotions to bath bombs, lip balms, essential oils, and everything in between!
We all know that soap is what started it all, but you may not know that the very first soap scent Rinse created was called "Pumpkin Patch"! It's now known as "Pumpkin Spice" and it's truly a timeless classic and a Fall favorite!
Another iconic Rinse product is our Pucker Stick Lip Balms. These highly moisturizing lip balms are made with some of the most nourishing ingredients (including Squalane oil - IYKYK!). They've been a hit ever since they were introduced with the first Pucker Stick flavor, Pina Colada! We now have over 25 fun flavors to choose from to treat your lips!
Nourishing skin is kind of our thing, which is why Rinse created our line of Skin Sticks. These portable lotion sticks contain all the good stuff to keep skin moisturized and happy! The very first Skin Stick was Shea Stick!
Our trip down memory lane would not be complete if we didn't mention Rinse's blockbuster, all time best-selling product – Peppofoot Stick! Heather had no idea when she created this incredible product just what a popular item it would turn out to be! Feet everywhere are enjoying the benefits of Peppofoot Moisturizing Stick!
In 2021, Rinse made approximately 208,236 bars of soap – that equates to 55,312 lbs of soap (28 tons!!!) For comparison, in 2003/2004 Rinse made less than 1,000 bars of soap. Talk about a glow up!
Rinse products have a universal appeal and have been loved by people all over the globe! The furthest distance (that we know of) that Rinse products have traveled is all the way to the Philippines!
For many years Rinse had locations in both Disney World & Disneyland. Why not add a little sprinkle of Rinse to make the happiest place on earth just a little happier!?
Rinse products aren't just sold at the Rinse store. There are stores in all of the 50 states carrying Rinse products – including Alaska and Hawaii!
Rinse is carried in some major retail stores including Whole Foods, Uncommon Goods, & Macy's Story.
2022 was a HUGE year for Rinse! We were incredibly humbled to be named as the 2022 Best Gift Shop in Monroe as well as the 2022 Georgia Small Business Rockstar! None of it would have been possible without our incredible, dedicated team of employees and of course our amazing, loyal customers!
I don't know about you, but this little trip down memory lane has us feeling quite nostalgic! It's been a wonderful 19 years and YOU are the reason for that! We'll forever be grateful for all the memories from these past 19 years and we look forward to 19 more! Thanks making this journey so amazing!
Continue reading