Celebrate the Season with Rinse: 5 Tips for Making the Most of the 2021 Holiday Season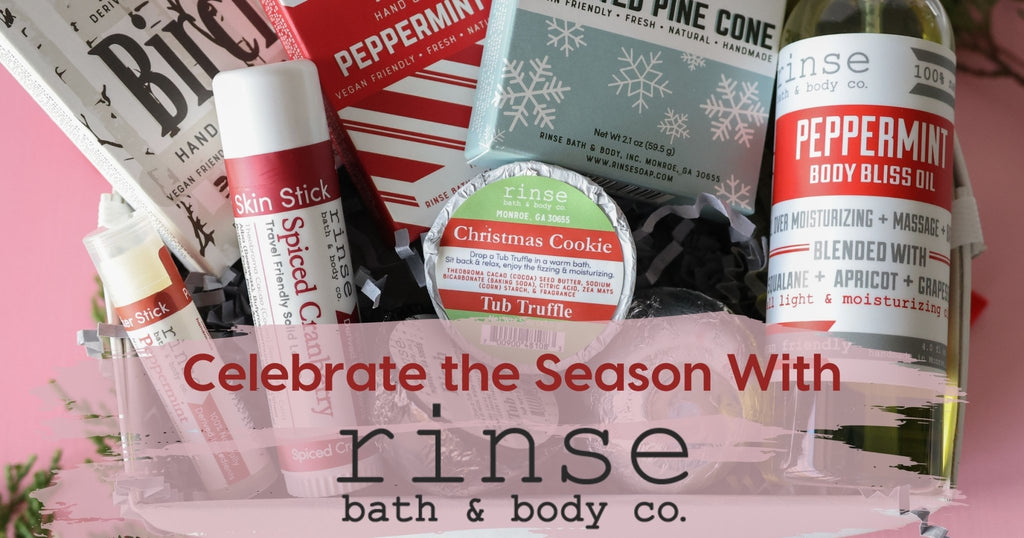 Can you believe we have already made it to November!? It seems that when the weather cools, the time starts to fly! As soon as Halloween is over, it really kicks into overdrive! We love this time of year though. There's so much to celebrate, from Thanksgiving to Christmas to New Years… it's a jam-packed time of year that somehow seems to go by so fast, yet at the same time it's a season of slowing down and enjoying the people around you! It's a time to gather with friends and family, express gratitude, enjoy delicious food, continue family traditions, take a little time off work, and let the holiday spirit brighten each and every day!
We all know that the holidays looked A LOT different last year. Living in the midst of a global pandemic was something few of us probably ever expected to experience! So many people were unable to gather with loved ones, instead having to spend the holiday season alone. It was a weird time and so much of the magic of the holidays felt lost. We all did what we could to make the best of it, but it certainly was not what any of us hoped the holidays would look like.
We are so thankful that this year seems to be shaping up a bit differently. It's looking promising and a lot of us are looking forward to resuming gathering with friends and family! While we will never get last year back, we are all about doing our best to make the holidays extra special this year! There are so many ways to add some extra "merry" to this time of year that don't require spending a ton of money or even taking unnecessary risks if you're still a bit nervous about gathering again.
Here's some of our favorite tips for making the season merry and bright!
1. Decorate early – Whether you're someone who firmly believes that Christmas decorations don't belong until after Thanksgiving, or whether you're someone who thinks they should stay up all year long, we highly recommend decorating early! Go all out with your favorite Thanksgiving/Fall décor, or bust out the Christmas tree. No matter which theme you go with, it's always fun to display your festive décor and set a fun mood. Why wait? Let's get the party started early so we can enjoy the fun atmosphere as long as possible!
2. Make a Holiday Bucket List – There's so much to do this time of year! Everything from apple picking and leaf watching to baking and looking at Christmas lights or watching your favorite holiday movies. Enjoy a family night and get organized with a holiday bucket list. It will let everyone have a chance to say what they'd like to do and it gives you the whole season to check things off the list and make memories you'll never forget!
3. Bake Delicious Goodies – We all know that one of the most important aspects of this time of year is holiday treats! This is another instance where we say it's best to start early and practice often! Find some fun baking recipes and give them a shot! Go for it with something that's a little out of your comfort zone! You'll learn a lot, have a good time doing it, and hopefully end up with a delicious treat in the end! 
4. Explore Your Town – If you're still not ready for travel, why not dive in where you live and explore all that your town has to offer? Check out your local Christmas parade, shop small by visiting your local businesses and restaurants, drive around and look at Christmas lights, enjoy your local park, truly get to know your town! You'd probably be surprised at how much fun you can have when you think local!
5. Enjoy Gatherings With Family & Friends – You don't have to throw massive get-togethers to make up for lost time, but there's just nothing like seeing loved ones during the holidays! It's a great time of year for hosting and catching up with those you love! Plan a "Friendsgiving" to reconnect with your friends you missed last year, or keep it simple with a girls night in (pajamas, a holiday movie, and hot cocoa make for an awesome night!). Whatever you decide to do, be sure to enjoy time with those you love!
One of our favorite ways to make the holidays special and help you be the "hostess with the mostest" is through fun, seasonal products! Whether you're looking to add some festive flair to your home, trying to create an extra-special experience for overnight guests, looking for some fun party favors, or even looking for gifts for other hostesses, we've got some awesome bundles for you!
Simply changing out the soaps in your bathrooms can have a huge impact! Try adding some festive flair with our deliciously scented, all-natural holiday soaps! There are tons of fun scents to choose from: Christmas Cookie, Holiday Spice, Gingerbread, Frosted Pine Cone, Spiced Cranberry, and more! 
If you're having overnight guests, why not surprise them with an extra-special holiday experience by stocking their bathroom with luxurious tub truffles or shower bombs?! Putting a skin stick or two in their welcome kit is another fun way to help your guests stay comfortable and keep their skin moisturized during the harsh winter months! Speaking of, one of the best ways we can think of to WOW your guests is with a holiday Pucker Stick! By far one of our most popular products because of the incredibly nourishing and hydrating ingredients that keep lips super soft all winter long!
If you're the type who likes to attend get-togethers but not necessarily host them, we've got some great gift bundles for you too! Show some appreciation to your favorite "hostess with the mostest" by bringing them a holiday treat in the form of a Rinse Fry Box Bundle, or put together your own favorite assortment of items!
Pumpkin Spice Fry Box Bundle - For those who love Fall, this bundle is for you! Let Pumpkin Spice season live on with this fun bundle that includes a Pumpkin Spice Soap, Skin Stick, and Pucker Stick! Excellent gift idea for Thanksgiving get togethers! 
Peppermint Patti Fry Box Bundle - Featuring one of the most iconic scents of the season, this bundle is all things Peppermint! Another great gift idea that includes a Peppermint Soap, Skin Stick, and Pucker Stick.
Flannel Fry Box Bundle - Is there anything more cozy than flannel!? This bundle includes a Flannel Soap, Skin Stick, and Pucker stick! 
Build-A-Bundle Holiday Fry Box - The perfect solution when you love the Fry Box gift idea, but want to personalize it a bit! Choose your own Soap, Skin Stick, and Pucker stick! 
Holiday Soaps Build-A-Bundle - Create your own customized bundle of 3 of your favorite holiday soaps! This cute bundle comes in a medium sized market basket and is wrapped in a cello bag making it super giftable!
Holiday Build-A-Bundle - Build your own personalized bundle of holiday scents to make the perfect gift for someone you love! Take your pick of 2 Holiday Soaps, as well as a Skin Stick, Pucker Stick, and Tub Truffle!
Taste The Season Pucker Set - The perfect stocking stuffer! This fun set of 4 holiday inspired Pucker Stick lip balms will make anyone's day merry & bright! 
Spiced Cranberry Small Berry Till Holiday Bundle - Enjoy two of the signature scents of the season with a Spiced Cranberry Soap and Skin Stick, along with a Peppermint Patti Soap and Pucker Stick! This set comes in a cute wooden berry till and comes in a cello bag so you can gift with ease! 
Sample of the Season Soap Box - Hit the easy button on gifting with this fun sample box of 3 of our most popular holiday soaps! This comes with full sized soap bars in Frosted Pine Cone, Peppermint Patti, and Spiced Cranberry!