4 Simple Tips for Naturally Glowing Skin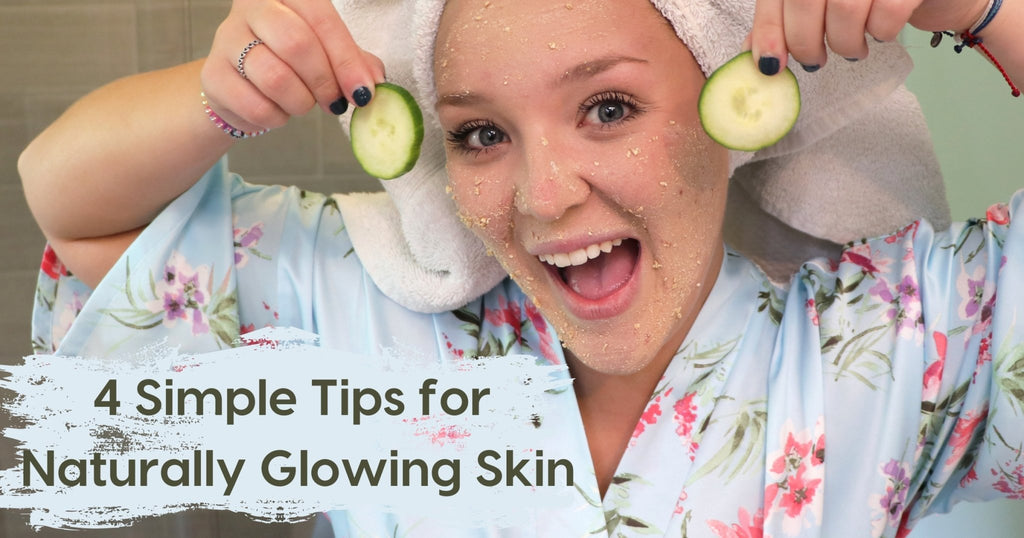 When is the last time you took a look at the ingredients list for the skincare products you use on a daily basis? That moisturizer you slather on every morning? The soap you use? Your favorite face mask? You might be surprised to find that many of the most commonly available products that are absolute staples of store shelves include long lists of chemical ingredients with questionable reputations! When you consider that the skin is the largest organ of the human body, and that anything we put on our skin gets absorbed, it can make you take pause and think twice about what you choose to put on your skin.   
Many of the chemically-laden products have harmful side effects – both immediate and potential long-term side effects. They have been known to irritate skin, cause dryness, redness, and generally be overly harsh on the skin. In addition, the questions surrounding the internal effects of absorbing chemically toxic products can send a shiver down your spine! It's no wonder than many people are seeking out clean, natural, and safe alternatives.
We all know the beauty industry is complicated enough as it is, and the idea of transitioning to a natural skincare routine can be overwhelming, but it's a lot easier than you might think! We recommend starting small to build new habits and then expanding from there. And the best place we can think of to start your transition is by swapping out your facial care products! The skin on your face is some of the most delicate skin of your entire body, and it deserves extra special care!
We've rounded up some of our top tips for going natural with your facial skin care. You're way too pretty to take chances with your skin! Keep on reading for some of our favorite tips and products that can help you successfully transition to a more natural and safe skin care routine.
TIP #1: Slather on the Natural Sunscreen
If we could give you just ONE tip to protect your pretty face it would be WEAR SPF EVERY DAY. NO. MATTER. WHAT. We are super passionate about this because it's such a simple thing that can make a massive difference in protecting your skin! We all know SPF protects skin from harmful UV rays, it lowers your skin cancer risk, and it helps to prevent premature aging! It's seriously the MVP of the morning routine! We are huge fans of natural sunscreens that don't contain a bunch of harsh chemicals. Check out our Organic SPF 30 Sunscreen for an excellent safe and effective option!
TIP #2: Say Goodbye to Dirt & Grime with Natural Cleansers
Okay, now that we've covered that important point, let's move to one of the most basic but important products we need for our facial skin: cleansers! As you already know, the skin on the face is typically more sensitive than skin elsewhere on the body which means it's important that we use a cleanser that is both gentle and effective. We never recommend using your shampoo, body wash, or a commercial grade soap on your face! We hate to break it to you, but most of the commercial "soaps" in the soap aisle aren't actually soap at all. Most of them are labeled as "beauty bars" or "detergents". These products are known for stripping the skin not only of dirt, but also of the natural and beneficial oils that we actually need!
Instead of reaching for the commercial stuff, look for products that are more natural. One of the key features of a good natural soap is one that contains "glycerin" which is a humectant that attracts moisture from the air to your skin. A well formulated natural bar of soap is going to cleanse the top layer of dirt, and simultaneously leave your skins naturally occurring oils.
Two of our favorite facial soaps are Dead Sea Mud Soap and Casteel Soap. Both are natural, glycerin-containing soaps that are excellent for using on your delicate facial skin!
Our Dead Sea Mud Soap is made from 100% naturally derived ingredients including mud straight out of the Dead Sea in Israel! This soap is a game changer for anyone with tricky skin issues. The minerals from the Dead Sea mud are incredibly purifying and help to give the skin a deep cleaning without being harsh. This soap is our best-selling soap and is known to be a great option for anyone with eczema, psoriasis, or rosacea. Check out our Dead Sea Mud blog for all the details about the incredible benefits of Dead Sea mud!
Another fantastic facial soap is Casteel Soap. This is one of the most gentle cleansers you could use. In fact, it's made simply of saponified olive oil. It's perfect for the most sensitive of skin types. It cleans well, but won't cause any irritation!
TIP #3: Mask Up to Reveal Your Best Skin Ever!
Now that we've covered how to naturally clean your skin, let's talk about how to naturally treat your skin to a little TLC! One of the best ways to do that is to mask up! No, not that kind of mask 😉
Using a natural face mask is an excellent way to treat your skin and see some incredible benefits as a result! We all have different skin types which means we have different concerns and needs when it comes to a face mask. Luckily, Rinse has something for everyone! Our DIY masks give you the ability to customize them specifically for your skin type! Dry skin? Mix them with something rich and creamy like honey or olive oil. Normal or combination skin? Mix with water or milk. Oily skin? Try mixing with tomato juice, witch hazel, or any slightly acidic fruit.
Check out our facial mask lineup to find something perfect for your skin!
TIP # 4: Moisturize, Moisturize, Moisturize!
Our last tip is to find a natural moisturizer for your face! There are an endless number of moisturizers on the market and trying to find the "right one" for you can feel like trying to find a needle in a haystack. While the beauty industry does it's best to over complicate it, we actually think moisturizing your skin can and should be quite simple. Using a high quality natural soap that won't strip the skin in combination with using a facial mask that helps to hydrate the skin can go a long way towards keeping your face moisturized.
When it comes to using a daily moisturizer, we're huge fans of Squalane Oil. It's a light, scentless, and quickly absorbing non-comedogenic oil that is loved for it's ability to promote cell elasticity, cell regeneration, and even help to fight fine lines and wrinkles! It helps to keep skin clear and healthy thanks to it's antioxidant properties, and it's gentle and safe for all skin types! Squalane is quickly gaining in popularity thanks to it's many benefits! Check out our blog on Squalane Oil to learn even more!