How to Get Healthy Hair Naturally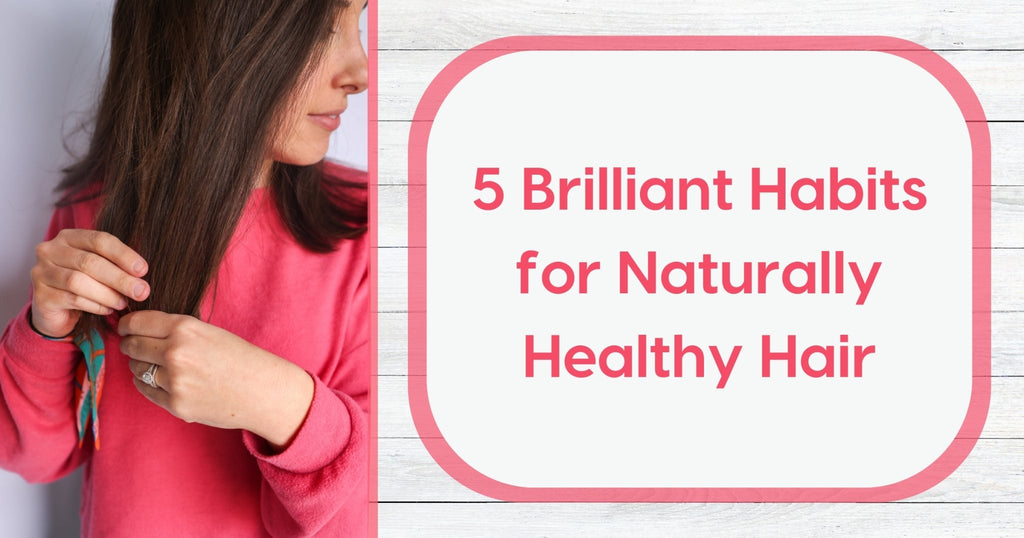 It's no secret that we all want to find ways to keep our hair strong, healthy, and looking great. This can be even more true if you are someone who deals with frustrating hair issues. Whether you have dry, brittle hair that constantly breaks or oily hair that has you looking a little greasier than you'd prefer, it can be a challenge to know what's causing the problems and what to do about it. The vast array of products on the market and the overwhelming amount of advice from hair care companies can leave you feeling confused and paralyzed when it comes to knowing what to do to give your hair the boost it needs!
We're here to tell you that it doesn't have to be complicated! In fact, just following a few simple steps can lead to a big payoff when it comes to restoring your hair. Even better, there's a lot you can do to improve your hair naturally. So, let's dive in with some of our top tips for naturally healthy hair!
Use a Sulfate-Free Shampoo
It's an unfortunate fact that many of the shampoos on the market today contain sulfates. There's a lot of talk about sulfates, but the bottom line is that they are excellent cleaning agents that help shampoo to trap dirt and oil residues and wash them away. Sounds great so far, right? The issue is that they work a little too well! Sulfates don't just wash away the dirt and bad oils, but they also can strip hair of GOOD, naturally occurring oils. When your hair is stripped of it's good oils, it can leave it dried out and brittle. This can also wreak havoc on color treated hair as well, leaving it faded and dull. Additionally, because sulfates can lift the hair cuticle, they can leave hair (especially curly hair) looking frizzy and wild. Yikes!
Don't let your shampoo be a contributing factor to your bad hair days! It's super simple to switch to a sulfate-free shampoo! Sulfate free shampoos are extremely easy to find these days. No need to visit a fancy salon to get your hands on some! Just head down to your local grocery store or big box store and you should find plenty of options! These shampoo's will be clearly marked as "sulfate free" on the bottle making them easy to identify. Switching to a sulfate free shampoo will allow your hair to keep it's good essential oils, it's natural shine, and to grow strong and healthy!
Wash Less Often
Another easy thing you can do to help restore your hair is to wash it less frequently. Yep, this is one of those rare cases in life where you can accomplish more by doing less! So why exactly are we suggesting you wash your hair less frequently? Well, similar to the negative effects from shampoos with sulfates, washing your hair daily can also cause your hair to be stripped of it's natural oils, leaving it dry, brittle, and prone to split ends! It might sound funny, but washing your hair every day actually trains your body to produce extra oils to try and make up for the ones that you are washing away. This can lead to excess oil which can encourage more hair washing and get you into a vicious cycle of feeling like you need to wash your hair every day! Skipping a day or two of washing your hair can help to "re-train" your it to level out oil production levels. We recommend starting with just challenging yourself to skip one day of hair washing! Once you get past that hurdle and grow more comfortable with the concept (and start seeing the benefits), we think you'll grow pretty fond of skipping more than just one day!
Level Up with Tea Tree Oil & Argan Oil
Now that you've gotten some sulfate-free shampoo, why not level up by adding some tea tree oil to it? Not only does this magical oil provide a wide variety of benefits for the skin, but it also can help to transform your hair and scalp. Adding a little tea tree oil to your shampoo can help provide relief for those dealing with dry hair, dry scalps, and dandruff. It has antimicrobial, antibacterial, and anti-inflammatory properties that allow it to help soothe the scalp, relieving dry and itchy skin and helping to prevent flaking. It helps to improve the overall health of the scalp which may in turn help with healthy hair growth!
Another incredible oil to try is Argan oil! This often overlooked oil is an incredible addition to your natural hair care routine. It's light, easily absorbed, and nearly scentless making it excellent for a variety of uses. It contains fatty acids as well as vitamin E and is a fantastic option for helping to ease hair frizz, treat pesky split ends, and add shine & bounce! It's so versatile that it can be used on either wet or dry hair, as well as styled hair. You can easily incorporate it into your routine by adding a little to your shampoo and conditioner, applying it as a hair mask or leave in conditioner, or using it as a regular hair oil.  
Try an ACV Wash
If you're feeling a little adventurous, this is a great option to try! As you begin to stretch out the length of time between hair washes, you may find that you want a quick rinse in between. We recommend trying an apple cider vinegar (ACV) rinse! This is simply a rinse made up of 2 easy ingredients: apple cider vinegar and water! If you're new to the ACV rinse, we recommend starting conservative! Go for a 25% ACV and 75% water mixture. Blend it up and simply put it on as a rinse instead of using shampoo and conditioner. It will rinse your hair beautifully and leave your hair nice and shiny! It's a win-win! You can use an ACV rinse all over, or section off the top portion of your hair and just rinse that!
No Poo, No Problem!
Our last recommendation is certainly the most extreme option and is for those who are wanting to be completely D-O-N-E with shampoo. If that's you, we recommend trying a little concoction that we like to call "No Poo" 😉. This is not for the faint of heart, but is great for those looking to "shock" your hair into the natural life! It can be especially great for those with oily hair! Since this method involves completely ditching shampoo, you'll need to create a little "no poo" concoction to use on those days when you otherwise would have washed with shampoo.
Here's the "No Poo How-To":
There are many different variations on the "no poo" method, so feel free to experiment and find what works best for you! The bottom line is that you'll only need 3 ingredients: baking soda, apple cider vinegar, and water. 
We recommend mixing about a tablespoon of baking soda into about a cup of water. You can add ACV to your mixture or use it separately afterwards as a rinse. We recommend putting your "no poo" in an old dish bottle for easy dispensing!
We'll go ahead and warn you now… this transition is going to be pretty oily and you're probably going to be wearing a lot of bandanas, hats, and scarves to hide your grease, but once you get through it, you'll thank yourself!! We do recommend starting conservative with any rinse that involves baking soda as everybody is different and baking soda can alter the PH balance of your skin… so, start small and grow from there!