Pumpkin Spice & Everything Nice!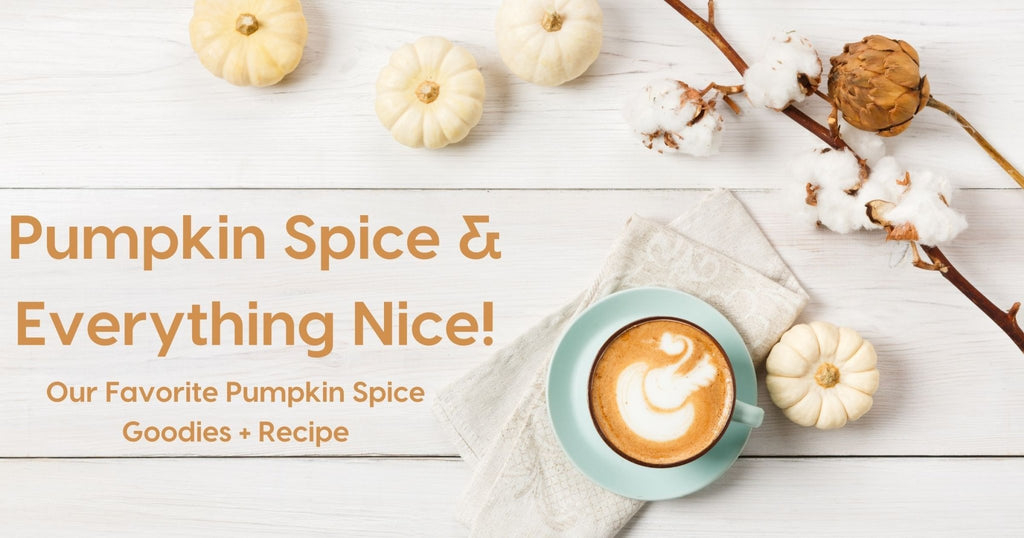 We've made it to September which means it's time to celebrate the return of Fall! It was a long, hot Summer and (as much as we love those laid-back Summer days) we are BEYOND ready for the cool, crisp Fall days! It really is such an iconic time of year. The leaves begin to turn brilliant shades of red and orange, the weather cools and cozy clothes come back into our wardrobes, weekends are filled with football and great food, pumpkin patches and corn mazes become the go-to family activity, and the anticipation of upcoming holidays starts to build. It's a truly magical time of year and we are giddy just thinking about it!
For as magical as Fall is, there is one iconic aspect that we haven't mentioned yet. Can you guess what it is? Yep. PUMPKIN SPICE - The quintessential flavor of Fall! There's just nothing better than the dreamy combination of cinnamon, nutmeg, ginger, allspice, and cloves. It's amazing how Pumpkin Spice has seen a meteoric rise in popularity over the years, and now it reigns supreme as the king of Fall! Everyone knows about the classic PSL, and Pumpkin Spice candles have long been a Fall favorite, but did you know you can now get Pumpkin Spice Oreos!? Yep. The obsession has crept into every corner of our lives. You can get t-shirts that state "My Blood Type is Pumpkin Spice," coffee mugs that read "Pumpkin Spice Everything", or pillows that say "Pumpkin Spice Keeps Me Nice". We've seen similar Pumpkin Spice loving statements on blankets, bracelets, keychains… pretty much any product you can think of! People don't just like Pumpkin Spice, they are obsessed with it!
We kinda are too, which is why we wanted to share a few of our own Pumpkin Spice products with you, as well as one of our favorite Pumpkin Spice recipes! Pumpkin Spice Whoopie Pies sound good to anyone else!?
If you're looking to get your Pumpkin Spice fix, we have got plenty of options for you, starting with our adorable Pumpkin Spice Fry Box! This super cute bundle contains one bar of Pumpkin Spice Soap, one Pumpkin Spice Skin Stick lotion, and one Pumpkin Spice Pucker Stick lip balm. Each of the products in this bundle is made from high-quality, naturally derived ingredients. We know you will "Fall in love" with everything included!
Pumpkin Spice Soap (4.5 oz bar) - This warm and spicy soap will have you smelling like you bathed in a pumpkin pie! It smells ah-mazing and cleans even better! We know that what we put ON our skin is just as important as what we put IN our bodies which is why we make our soaps from naturally derived ingredients! Our soaps are handmade the old-fashioned way and include incredible moisturizers like Cocoa Butter and Shea Butter, as well as glycerin for some amazing suds! This soap is topped with a sprinkling of Powdered Pumpkin (and its exfoliating enzymes) for an extra touch of Fall!
Pumpkin Spice Skin Stick (0.5 oz) - Those dropping temperatures that we love do have one small downside... dry skin! Luckily, there is no need to suffer! Our Pumpkin Spice Skin Stick is a perfectly portable lotion that you can throw in your purse or pocket and have any time! Think of it a bit like a lip balm for your body. The solid lotion is packed into a twist-up tube so you can access it any time you need, without waste and without making a mess! So easy to throw in your purse, gym bag, or keep in your car!
Pumpkin Spice Pucker Stick (0.15 oz) - Treat your lips to the most nourishing lip balm EVER! Our Pumpkin Spice Pucker Stick lip balm contains some incredible natural moisturizers as well as our game changing ingredient, Squalane Oil! This quickly absorbed oil is known for being extremely healing which makes it perfect for dry, chapped lips! The only thing that could make Pucker Sticks more awesome is getting them in the Pumpkin Spice flavor!
If you've already got the Pumpkin Spice Fry Box but you still are in need of a Pumpkin Spice fix, don't fret! We have a variety of additional products that can satisfy your Pumpkin Spice cravings!
Pumpkin Spice Body Spread (4 oz) – This thick, creamy, luxurious Pumpkin Spice Body Spread is made from a super moisturizing blend of ingredients including Shea Butter & Olive Oil! This is a must have for the cool, dry months!
Pumpkin Spice Body Buff (4 oz) – This Pumpkin Spice Body Buff is our version of a sugar scrub and it. is. AMAZING!! We made this Body Buff with a blend of sugar and hydrating oils so that it will not only leave your skin exfoliated and fresh, but it will also leave it soft and moisturized! (without any greasy or oily feeling, of course!)
Pumpkin Spice Body Bliss Oil (4 oz) - Fall luxury in a bottle! Our Pumpkin Spice Body Bliss Oil is essential if you're looking to keep your skin feeling soft and smelling great! This oil is perfect for using as an all-over moisturizing oil, bath oil, or even a massage oil! It is made from a blend of light oils that soak right in and won't leave you feeling greasy!
We hope our lineup of Pumpkin Spice products gets you through this magical time of year! If you're still looking for more of a fix, try out this recipe for Mini Pumpkin Spice Whoopie Pies! They are the perfect unique, seasonal treat that will be a hit at your next gathering!
Pumpkin Spice Whoopie Pies:
Ingredients:
2 cups all-purpose flour
1 teaspoon baking powder
1 teaspoon baking soda
1 teaspoon ground cinnamon
½ teaspoon ground ginger
½ teaspoon salt
1 stick (1/2 cup) softened butter
1 ¼ cups sugar
2 large eggs (room temperature, lightly beaten)
1 cup pure pumpkin
1 ¼ vanilla extract (divided)
4 oz cream cheese (room temperature)
6 tablespoons softened butter
1 ½ cups powdered sugar
How to Make:
Preheat oven to 350°F and prepare 4 baking sheets by using parchment paper or lightly greasing.
Combine flour, baking powder, baking soda, cinnamon, ginger, and salt in a medium bowl.
In a large mixing bowl, beat in ½ cup softened butter and granulated sugar on medium speed for 2 minutes. Add eggs in (one at a time), being sure to beat well after each addition.
Add 1 cup pumpkin and 1 teaspoon vanilla extract and beat until smooth.
Stir in flour mixture slowly until well combined.
Use a cookie scoop to drop batter onto prepared baking sheets.
Place in oven and bake for 10 to 13 minutes or until springy to the touch.
Cool on baking sheets for 5 minutes, then remove to wire cooling racks to continue cooling.
In a small mixing bowl, beat together cream cheese, 6 tablespoons of softened butter, and ½ teaspoon of vanilla extract on medium speed until fluffy.
Slowly add in powdered sugar and continue beating until light and fluffy.
Once the baked portion is completely cool, spread a heaping tablespoon of the filling onto the flat side of the cookie. Then top with the flat side of another cookie to create a sandwich.
ENJOY!
Store your extra Pumpkin Spice Whoopie Pies in a covered container in the refrigerator!