8 Surprising Reasons Why Peppermint Is a Powerhouse Essential Oil That Everyone Should Have!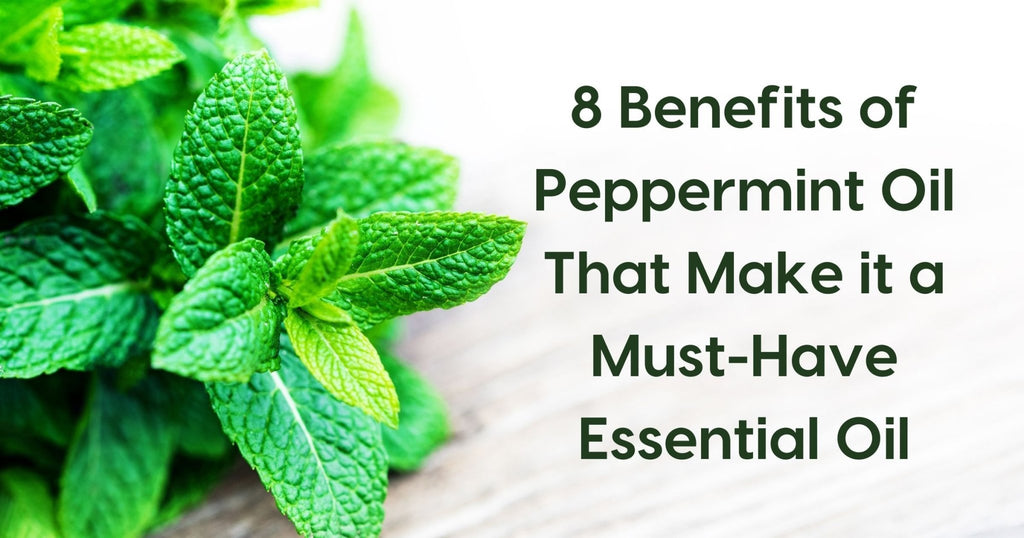 In the world of essential oils, there are a plethora of options to choose from. Each oil has its own set of unique uses and benefits, but one of the most popular, versatile, and best smelling oils around is the classic Peppermint Oil. This familiar oil is one of the most popular on the market and, for many, it is actually the very first oil they ever purchase. So what makes it so popular? No doubt the incredible scent plays a part, as well as the holiday nostalgia that this oil can induce, but it is so much more than that!
Peppermint oil has actually been used for centuries. Some believe that it was used by the ancient Egyptians for medicinal purposes, but we can be certain that it began to gain traction during the 18th century in England. Peppermint belongs to the mint family and peppermint oil is the naturally occurring hybrid of water, mint and spearmint. It is known to have anti-microbial properties and its most active components are Menthol and Menthone. You may be familiar with Menthol as it is a common ingredient in many cough drops, expectorant rubs, and muscle rubs. It is known for its analgesic, pain-reducing properties. Menthone also has analgesic properties in addition to having antiseptic properties. These two components together are also famous for providing energizing and invigorating effects! You could say these are the keys to why peppermint oil is so versatile and has such a wide range of uses. We've made a list of 9 of our favorite uses of this powerhouse oil!
Ease Muscle Aches & Pains – Thanks to the analgesic properties of the menthol contained in peppermint oil, this is a fantastic natural remedy for helping to ease aching muscles. There are a myriad of ways to apply peppermint oil to aching muscles. Try adding a few drops to a warm bath or massage oil to get some natural relief! We also recommend giving our Peppofoot Stick a try! This soothing foot balm is incredible for relieving fatigued, tired foot muscles! It could even be used elsewhere as a muscle rub!
Relieve Headaches – Peppermint oil is widely known for its ability to help ease headaches. We can again thank the menthol content which can help to ease the pain of headaches. Try using our Peppermint Roll-On for a portable way to have quick, easy to apply peppermint oil any time you feel a headache coming on! Check out some of these amazing reviews from our customers who have found that the headache relief from our Peppermint Roll-On can't be beat!
"My go-to for headache relief!" – Dana M.
"This stuff always helps me when I have a headache. I have recommended it to so many people who say it also works for them." – Robin T.
"AHHHMAZING!!! I've suffered from crippling migraines for over 40 yrs. I saw this product while I was at Epcot on 01/11/18 & decided to try it. I had a migraine when I woke up today and used this oil on my forehead, temples & tip of my nose. Not only did it get rid of the migraine, it did so in record time. I've tried other natural oil products as well as countless over the counter & prescription meds and none of them have ever done what this oil did. I'm beyond ecstatic with this product. I also purchased the pomegranate lip balm and that's also amazing." – Kris
"I suffer from bad migraines and am prone to getting them at work. I keep this in my pocket and roll some on my temples and it helps relieve the pain! Definitely love this product!!" – Gillian R.
Encourage Scalp & Hair Health – We all know what a struggle it can be to maintain a healthy scalp and healthy hair, especially if you are trying to do so naturally. Peppermint oil is known to help stimulate the scalp and has even been shown to help reduce dandruff. Some have reported that peppermint oil has even helped with hair growth, balancing oils, and increasing hair thickness. Just be sure not to overdo it. It is recommended to use peppermint oil no more than 3 times per week in your hair care routine. Try adding a few drops of peppermint oil to another carrier oil and massaging it on your scalp, or try making a DIY mask with coconut oil and peppermint oil!
Increase Energy – The fresh, minty scent of peppermint oil is one of the most invigorating and energizing scents around! In fact, a study completed in 2013 found that peppermint oil is effective at preventing fatigue and even improving exercise performance! We totally recommend reaching for the peppermint oil when you need a quick boost of energy. One of our favorite ways to reap the energizing benefits is to simply use peppermint oil in a diffuser and then breathe in the invigorating peppermint air! Use our pure peppermint essential oil drops in your diffuser to see the benefits yourself! Another favorite method is using our Peppermint Shower Bomb to really create an energizing, spa-like experience!
Reduce Itchiness – No one enjoys having itchy skin. It's a super common issue that can be caused for a wide variety of reasons including bug bites, hives, and poison ivy. When you're dealing with any of these, you know that getting relief is at the top of the priority list! Thankfully, the cooling effect of Peppermint Essential Oil can be a strong antidote to itchy skin. This can be especially powerful when combined with Lavender Essential Oil.
Keep Bugs Away – Did you know that peppermint oil is a natural bug repellent? It's true. Insects have a strong dislike for peppermint oil, meaning it is your new secret weapon for keeping creepy crawly bugs at bay in a safe and natural way! There are several ways to tackle de-bugging your home. Try putting some Peppermint Essential Oil on a cotton ball and then placing that in areas where you are prone to have bugs. You can also try mixing up your own spray by combining water with a few drops of peppermint oil in a spray bottle.
Relieve Stomach Issues – Stomach issues. We've all been there, and we all know how miserable it can be! When you are dealing with stomach issues such as gas and indigestion, relief literally cannot come soon enough! Thankfully, peppermint oil is known as a natural remedy that may have calming effects on the gastrointestinal tract. It essentially helps to calm the muscles of the stomach, which in turn helps everything to function more effectively and can help relieve these uncomfortable issues! Try using our Peppermint Body Bliss Oil to rub some soothing peppermint on your stomach next time you need a little relief!
Nausea – Speaking of issues that are super uncomfortable, dealing with a bout of nausea is never fun or convenient! Peppermint oil is amazing for helping to provide quick relief when you are feeling nauseous. Try dabbing a bit of oil from our Peppermint Roll-On onto your wrists, temples, or even the tip of your nose to start breathing in the soothing peppermint scent!
It's clear that Peppermint Oil truly is a powerhouse when it comes to being a natural remedy for a wide variety of things! We personally can't get enough of it, which is why we've added it to so many of our favorite products! If you are looking to get your peppermint fix, check out some of these fun and minty fresh peppermint products: