5 Simple Steps You Can Take Today to Start "Going Natural"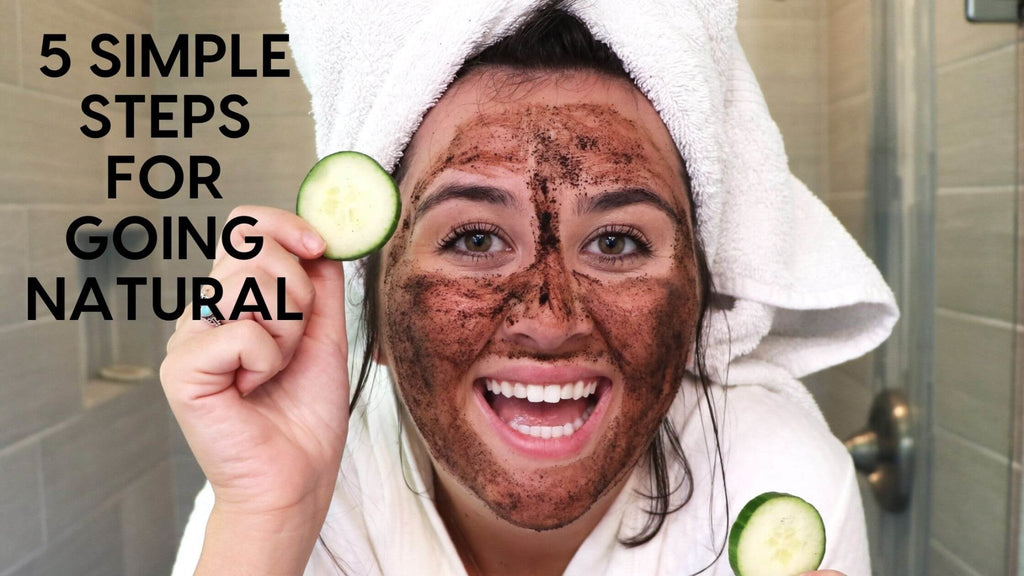 Have you been considering making the switch to more natural skincare and beauty products? If you're like a lot of us, you've become more aware and mindful of some of the harmful chemicals that are common in many of today's conventional products and are looking for ways to transition to a more natural, clean lifestyle! If you want to make the leap but are uncertain of where to start, you are in the right place! While the natural living lifestyle can encompass so many aspects of life, we think starting small is best! Here are 5 simple steps you can take to start "going natural" today!!
1. Start Using a Natural Soap
A company that was built on making natural soap is recommending you switch to natural soap!? Who woulda thunk it!? Although this might seem like our most obvious tip, it is one of our most important ones and one that we are super passionate about! Here's an interesting fact that you may not even be aware of: Most commercial soaps sold in stores aren't actually even soap! Yep. Take a look next time you go to the store and see how many actually include the word "soap" on the package. You will probably be shocked at how few use that term! And you might be even more surprised at how many unfamiliar and hard to pronounce ingredients are included in these products. The reality is that many of the commercial soaps are more akin to detergents… They include chemical detergent cleaners and synthetic lathering agents that are harsh on the skin and can strip it of its natural oils.
Our skin is our largest organ and our first line of defense against germs! It's critical that we take care of it properly and give it the nourishment it needs! This is why we recommend switching to a natural soap that includes good-for-you ingredients. One of the best things about truly natural, handmade soap is that it contains glycerin. It is a byproduct of the fats and oils that are blended together during the soap making process. Glycerin is a natural skin emollient and is an amazing humectant. Basically, it helps to attract moisture to your skin.  Many of the commercial grade soaps actually remove glycerin to make their bars lighter and less expensive to ship!
A good, natural, handmade soap will effectively cleanse the dirt and grime from your skin while leaving the naturally occurring good oils in your skin. It will leave you clean, moisturized and your skin more balanced!
One of our favorite soaps is our Dead Sea Mud Soap. It's one of our best selling soaps for a reason! It contains mineral-rich mud straight from the Dead Sea and this ingredient makes the soap incredibly purifying and great for all types of skin – even those with tricky skin issues such as psoriasis and eczema! This soap also includes some of our favorite natural moisturizers such as Shea Butter, Cocoa Butter, Olive Oil, Coconut Oil, and more! And bonus, it can be used as a facial soap or an all-over body soap making it super versatile.
2. Begin Using Sulfate-Free Shampoo
While we are not in the shampoo business, we are huge advocates of switching to a sulfate-free shampoo! Similar to how commercial soaps are really more accurately described as detergents, shampoos that contain sulfates are really detergents as well. These shampoos strip hair of its natural oils and leave it dry, brittle, and even can leave colored hair looking dull and lackluster! So what should you do to start restoring health and shine to your hair? Easy - simply switch to a sulfate-free shampoo! These shampoos are sold at most big box retail stores, grocery stores, and drug stores. All you need to do is look for "sulfate free" on the bottle and you'll be good to go. If you REALLY want to step your hair game up, try skipping a day or two of washing your hair!
3. Switch to a Natural Deodorant
You knew this was coming didn't you?! Natural deodorants are all the rage these days! People are beginning to learn more and more about the long term effects of the chemicals that are included in conventional deodorants which has led to a huge demand for natural deodorants.
So, what's the deal with transitioning to natural deodorant? Well, first of all, it is truly a transition! Traditional deodorants are generally deodorants (they keep you from smelling bad) AND antiperspirants (they keep you from sweating so much!) While the idea of reducing the amount of sweat sounds appealing, there is a downside. Unfortunately, they accomplish this feat that by clogging pores which then causes our bodies to overcompensate and can actually result in even more sweat production! Beyond that, our bodies were literally designed to sweat. It's an important way that we regulate temperature and expel toxins. As if all this wasn't bad enough, many traditional deodorants contain lots of foreign chemicals that aren't exactly healthy for our skin. A lot of traditional deodorants cause people to experience a plethora of skin issues including redness, bumps, and itchiness!
With all of these reasons to move away from regular deodorants, it sounds like a no brainer! There's only one little problem… so many natural deodorants do nothing but disappoint! We've heard so many stories from people who have tried natural deodorants with the highest of hopes, only to come away disappointed and ready to go back to their old chemical-filled deodorants.
After getting a lot of requests for a Rinse deodorant, we finally took the plunge to try and see if we could come up with something that would be effective. To be honest, our expectations were low. We basically only gave it a try so that we could tell people that we had given it our best shot but it wasn't possible to create an effective natural deodorant. Needless to say, no one was more shocked than we were when our efforts at creating a natural deodorant that actually works were successful!
We highly recommend giving our deOdor Stick a try if you're looking to go natural! They are free of all metal, parabens, phthalates, and sulfates! These come in a variety of scents so there is something for everyone! Check out the reviews to see what our customers are saying about how well they work!
4. Discover the Natural Benefits of Oils
Ok, we KNOW the whole topic of oils can be overwhelming and we aren't here to get you flustered! There's plenty of time to dig into all the oils out there and discover their benefits, but if we could recommend just a few to start introducing into your hygiene and beauty line up they would be:
Squalane Oil – Not to be too bold or overstate it too much, but Squalane Oil is seriously about to be your new best friend! This little miracle oil is taking the world by storm and being used in all sorts of products from hair care, cosmetics, to even sunscreens! We have a whole blog that explains the benefits of Squalane, so we won't go into all the details here, but if you're looking for a natural product to help moisturize your skin, combat fine lines and wrinkles, and provide amazing antioxidant properties then look no further! Our customers have referred to Squalane Oil as a "face lift in a bottle" and we couldn't agree more!
Argan Oil – This oil is derived from the Moroccan Argan Tree and we love it for the fact that it is light, quick absorbing, and packed with tons of fatty acids as well as Vitamin E! This oil is phenomenal for using on hair! It helps to ease frizz, treat split ends, and provide a natural shine and bounce to the hair!
Peppermint Oil – We might be a little biased, but we think Peppermint Oil is a real MVP of essential oils! This powerful oil has been known to curb many common issues and can help soothe your head and activate your mind! Our customers love using Peppermint Oil as a natural remedy for headaches, to help them focus, to help with sinuses, and so much more!
5. Treat Your Feet to Natural Rejuvenation
Last but not least, we can't neglect our feet! They do so much for us and carry us around everywhere we go… It's only right that we show them some love! One of our favorite natural ways to pamper our tired tootsies is with our Peppofoot Stick. This fun foot balm is an incredible treat for tired, dry, cracked feet! It includes lots of fabulous natural moisturizers such as Shea Butter, Apricot Kernel Oil, and Avocado Oil! It also includes 100% natural Tea Tree Oil and Peppermint Oil to give this foot balm some tingling, antiseptic oomph! Best of all, this foot balm comes in the form of a twist-up tube meaning application is super simple! No mess!
If you're serious about getting started on your natural journey, we have got a few products designed to make your transition easy peasy! We designed our "New Natural You Discovery Box" Collections to be curated boxes filled with natural products for every level of transition!