Top Tips for a Naturally Clean Home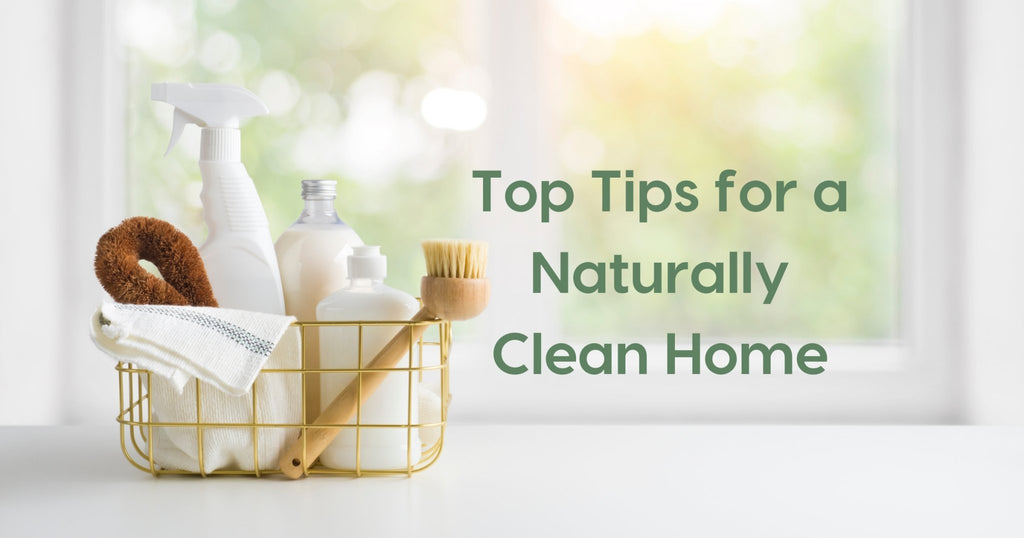 We all know that keeping a clean home is important for keeping dirt, germs, and grime at bay, but did you know that studies have shown links between clean spaces and lower stress levels? It sounds like the old saying "a clean home is a happy home" may be true after all! If you're looking for some natural ways to freshen up your home to keep it feeling fresh and clean, we've got some tips for you!
Improve Indoor Air Quality
It's hard to make a home smell fresh when dirty air is circulating around! That's why our first tip is to make sure you're breathing in clean air in your home. There are a few simple steps that you can take to improve the quality of the air in your home.
Check and/or Replace Air Filter – This is your reminder to check your air filters and replace them if needed! It's easy to forget this step and you might be surprised at just how dirty air filters can get over time! We recommend setting a reminder in your phone for your preferred frequency so that you get an alert when it's time to change them. If you really want to step up the quality of the air circulating in your home and add a pop of freshness, try adding a few drops of your favorite essential oil to the air filter!
Open Windows – What could be better than a totally free and super easy way to freshen your air!? All it takes is opening a few windows to let fresh air circulate inside your home! We love opening our windows and enjoying fresh breezes, but we don't recommend doing this during pollen season!
Add Houseplants – Get a natural air purification system by adding some houseplants to your home. Having a few plants inside can add charm to any space and simultaneously may help improve your air quality.
Try Room Sprays/Linen Sprays
There's a lot you can do to freshen up your home with a few simple room/linen sprays! Choosing a natural room spray allows you to safely freshen up any room in your home. We love room sprays because they allow you to customize exactly what type of environment you want to create and you can switch it up any time! Want to create a clean and clarifying space? Try our Lemongrass Refreshing Spray! Want to create a calm and relaxing space? Lavender Refreshing Spray is the answer! 
Our versatile room sprays also make fantastic linen sprays! Try adding a few spritzes to your towels before putting them away. They're perfect for freshening up sheets and blankets, as well as pillow cases! If you want to relax before bed, try spraying a bit of lavender on your pillow to help you unwind and drift off to sleep!
Get Creative With Essential Oils
The number of ways you can use essential oils to freshen your home is limitless! Here are a few of our favorite tricks for using essential oils to create a fresh home! All of these are super simple and don't require much more than a cotton ball or clothes pin!
Place a few drops of your favorite essential oil onto a cotton ball and place it at the bottom of the trash can in your bathrooms. This is a great option for freshening up a space and will leave everyone wondering how you did it!
Add to the fresh bathroom vibe by placing a few drops of essential oil on the inside of the cardboard tube on toilet paper. 
Create your own natural cleaner by mixing equal parts water and vinegar, and then adding a splash of your favorite essential oil.
Add a few drops of essential oil to the inside cardboard of tissue boxes in your home. The cardboard will soak up the scent and you'll get a nice bit of fragrance with every tissue pulled!
Another clever trick is to place a few drops of essential oil on a wooden clothes pin and then clip it to the back of an air vent. No one will know it's there, but as air blows through your vent you will get to enjoy the fresh aroma!
Try adding a drop or two of essential oil to your dryer balls when washing sheets for an extra pop of freshness!
Our last tip isn't super clever, but it is effective! If you really want to punch up the freshness in your home, try diffusing essential oils in a traditional diffuser.
Use Fresh Soaps in Bathrooms & Kitchen
Don't underestimate the power of fresh soap! It's a small but powerful way to help add to the freshness of your home, whether it be in the kitchen or the bathroom. Your guests will love the nice treat of washing up with fresh, natural soap! These are super easy to change out between seasons as well!
Cook Up Some Stovetop Potpourri
If you're in the mood for a little DIY freshness, consider cooking up some stovetop potpourri! This is another option that is super flexible and allows you to easily create scents for each season. There are all kinds of recipes for stovetop potpourri's that utilize fresh, natural ingredients that you probably already have around the house! You can use fresh fruits like lemons or oranges, cinnamon sticks, vanilla extract, and more. All you have to do is put some water in a pot, add your ingredients, and bring to a boil. Let the water boil for a few minutes and then reduce it to a simmer that you can keep going for as long as you want to release the aromas. Make sure to watch your water levels and refill as needed. As an added tip, you can save your ingredients in the refrigerator to reuse the next day!