10 Reasons We LOVE Thievery Roll-On + A Historical Fun Fact You Never Knew!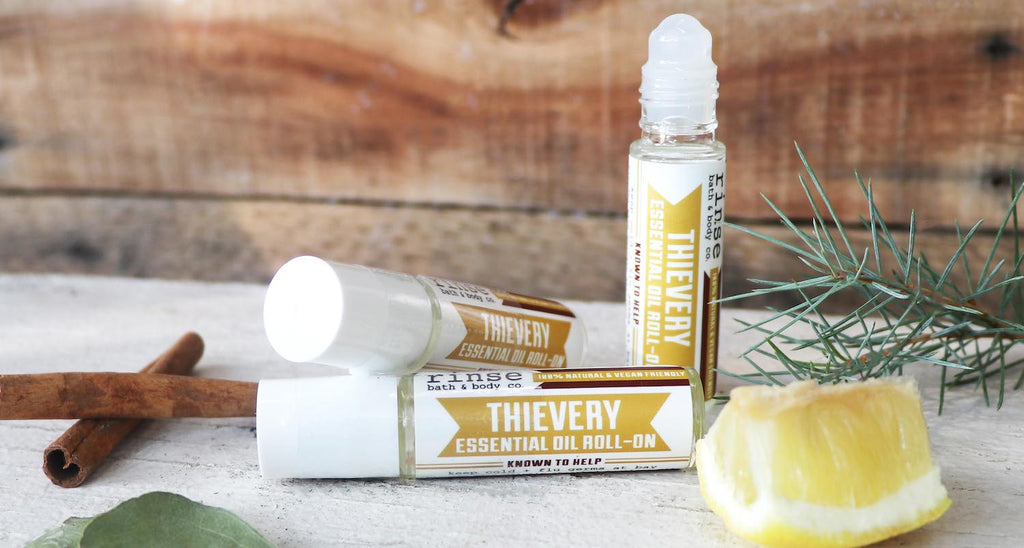 We believe there are two kinds of people in this world... Those who love Thievery Essential Oil and those who haven't tried it yet! If you are in the second bucket and looking to learn more about thievery oil, you're in the right place! Here at Rinse, we are HUGE fans of Thievery and we can't wait to introduce you to it! Meet one of our favorite essential oil roll-ons:
What kind of name is that?… Well, let me tell you a little about thievery oil history (you know it's gonna be good with a name like "thievery"!
As folklore has it... Back in the day, we're talking waaaaay back in the 15th Century Bubonic Plague day (that's circa 1413 in case were wondering), the story goes there was a group of European thieves (four thieves to be exact) who robbed plague victims & their graves, but they never got the plague. Pretty incredible when you consider that the Bubonic Plague was so highly contagious that it was also know as "the Black Death"... Yikes! Once the thieves were finally apprehended, they were given a choice to either give up their secrets to staying healthy, or perish. As you might imagine, they chose to give up the secrets! As it turns out, they ended up being spice merchants by trade. The trade business had come to a halt due to the closure of the sea ports thanks to the plague, so they turned to looting plague victims & their graves as a way of making money. They had deep herbal knowledge as a result of their trade and they revealed that they used a highly effective blend of oils & herbs to protect them. Their secret recipe included Cinnamon, Clove, Eucalyptus, Rosemary, & Lemon. Legend has it that they applied the oils to their hands, feet, temples, ears and even wore a mask covering their mouths that had the blend applied to it. The saving grace for the thieves, essential oil! 
So what does that have to do with us non-plagued folks worrying about people of today? Well, testing & studies have shown that the essential oils in this blend can be helpful in protecting your state of wellbeing. So you get well & stay well.
And what does that have to do with a roll-on, you ask... 
We know that this blend of oils is effective for getting well and staying well, so we decided to take this germ-fighting essential oil blend, mix it up with our favorite Squalane Oil & put a roller top on it for easy, anywhere & anytime application. This thievery roll-on is portable, convenient, and travel-friendly so you never have to be without it!
Stay Well: Is everyone around you sick or getting sick? Don't fret! You can use it to help keep you stay well and keep germs at bay!
Get Well: Having a hard time getting over that last little bit of cold or flu? It can help get you over that hump and get back to being well!
Play Defense: Want to proactively help your kids fight the petri dish called school? Rub it on their feet & slide some socks on them! Use before school and after school!
Portable: This roll-on is designed to be convenient and portable! Throw it in your purse, your kids' backpack, or your car for easy access any time!
Squalane: Our Thievery blend includes our favorite ingredient… Squalane Oil!
Scent: It smells amazing! We love the spicy and earthy scent! Rub some on your wrist or neck to smell 
Gentle: No harsh chemicals. Thievery oil roll-on is a safe and natural blend of essential oils you can use to care for your family's health.
Natural: Our thievery blend is made from 100% natural essential oils
Vegan-Friendly: Our thievery blend is vegan-friendly
Gluten Free: Did we mention that our blend is also gluten-free!?
How we use the Thievery Roll-On…
Roll it where you need it, got a tickle in your throat?—roll it over your throat (external), your ear bothering you a bit?—roll it behind your ear, feeling a little chest'y?— roll it on your chest

Roll it on the back of the neck, the bottoms of the feet or on your chin to be a little proactive with things
As you can probably tell by now, this stuff has our heart! But don't just take our word for it… Check out these amazing thievery reviews from our valued customers!
"I purchased Thievery in October and use it every day. Have had flu in family, traveled extensively for work, been exposed to strep throat and colds. Have made it through Fall and Holidays without the usual bronchitis or flu. Love this stuff." - Ms. Lee
"Purchased this for myself before flu season hit and now that it's here I'm so thankful I have it. Apply it everyday and so far so good - no flu. Love the ease of a roll on and it has a pleasant smell as well! Highly recommend and would purchase again!" - Tami K.
"I bought this product while at Epcot in Disney World last week. My husband and I came back to celebrate our 25th wedding anniversary and he had caught a terrible flu like virus on the plane ride out. I was so excited to find the Rinse stand and bought the roll on thievery for my husband. We immediately rubbed it all over his neck and behind his ears. The smell made him feel a bit refreshed and the neck massage with the oil relieved some tension. What a blessing to have found this in such an unexpected place! We also used it on our flight home to prevent any further illness." - Tara B.
"A Friend bought this for me at Christmas. I would be lost without it. In fact, I was lost when I lost it and then order a new one. Now I have two since it popped up. This oil kept me from catching every cold and illness that swept my house." - Sarah M.

"I use it every day and have avoided catching a cold for a full year!!" 

Ashley M.

"I still LOVE my Thievery roll-on – I use it every night." 

Jim V.

"I bought your Thievery Roll-on at Epcot when we were down there in March (we live in Niagara, Canada) and have been using Thievery along my neck lymph-node area to help combat sinus infections and head colds, sore throats and whatever spring threw at me (with some success – I haven't needed antibiotics which is a HUGE step for me!)" 

Shaunna M.
Want some of your very own? Shop our wide selection of thievery products including: