Rinse College Survival Guide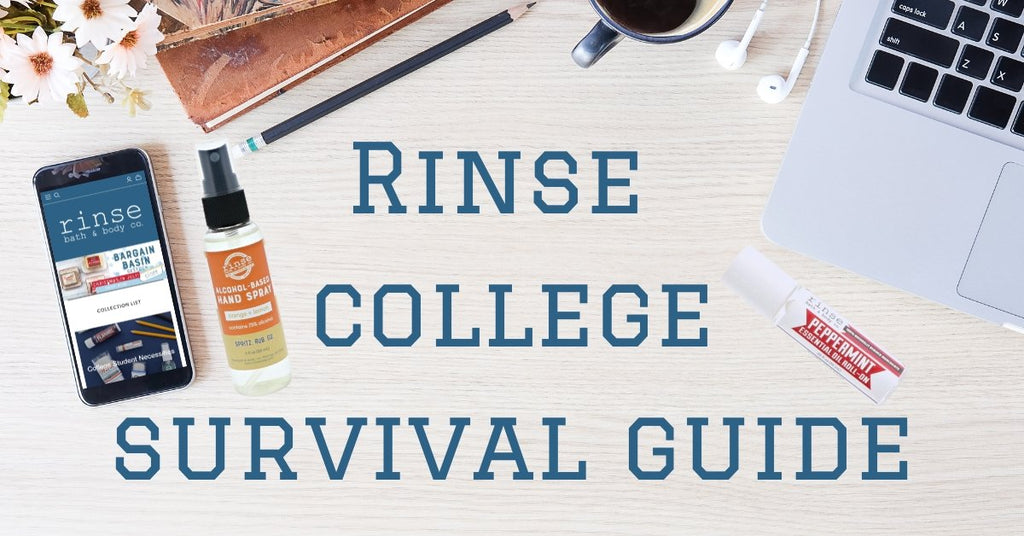 It's hard to believe that Summer is already coming to an end and the hustle and bustle of another busy school year is upon us! We'll miss the lazy Summer days, but there's something magical and exciting about the new beginnings that happen this time of year. This is especially true in the case of college students. There are new cities to explore, new campuses, teachers, friends, and routines! It's a lot of change in a short time, but it's oh-so-fun!
We wish everyone who's heading off to school a year filled with lots of fun and success! One of the best ways to ensure it's a great year is to be as prepared as possible! If you're about to head off to college, this blog is for you! We've rounded up our must-have products to help you survive (and thrive) this semester! Read on to see what's in our college survival kit!
Rinse College Survival Kit
Alcohol Based Hand Spray – We hate to have to say it, but we all know it's true… going off to college means being around A LOT of germs. Between classes, sporting events, and extra curricular activities, you're bound to be surrounded by a lot of people. One of the best ways to combat germs on-the-go is with our Alcohol Based Hand Sprays. These awesome sprays come in a variety of scents for every mood and personality! They are made with 75% alcohol to keep germs at bay, and also contain glycerin to help keep your skin from getting dried out. It's the perfect combination! Throw one in your bookbag, purse, or car so that you can easily stay clean everywhere you go!
Handy-Tizer – It's not just our hands that need to be kept clean this school year, but also a wide variety of surfaces and common areas. This is especially true if you're living in a dorm with lots of shared spaces. That's where Handy-Tizer comes in clutch! As the name suggests, this product is a super handy natural cleaner made from a blend of essential oils as well as witch hazel. It's perfect for keeping in your dorm room to help clean your desk, doorknobs, and so much more!
Peppermint – Don't head off to college without the absolute MVP of essential oils! Peppermint oil is fantastic for so many things. It has been known to help everything from headaches to increasing focus (and, let's be honest, you're going to need both at some point during the school year!). We've got a ton of Peppermint products to choose from so you can enjoy the benefits any way you choose! Try out our Peppermint Roll-On for a super portable and easy-to-apply option for taking peppermint oil with you everywhere you go! Peppermint Refreshing Spray is a great choice for keeping in your room to get an extra boost any time you choose, and Peppermint Shower Bombs are perfect for getting in the zone before a night of studying!
Thievery – This is a must have for going off to college! Made from a blend of 100% pure essentials oils of Cinnamon, Clove, Eucalyptus, Rosemary, and Lemon, this oil not only smells great, but is amazing at helping to protect your wellbeing! It's a fan favorite for everything from helping with allergies to helping give an extra boost during cold and flu season. You don't want to be caught without it!
Sweet Orange – When you're feeling the stress and need a little help focusing, give Sweet Orange a try! This citrusy scent is bright and refreshing, making it great for a little pick-me-up any time of day! The cheerful, refreshing scent can help boost your mood when you're feeling a little anxious and it can also help energize you to stay focused! As with all our essential oils, you can grab it in a handy roll-on, refreshing spray, shower bomb, and so much more!
Lavender – Never underestimate the importance of getting rest throughout the semester! Being a student is exhausting and it feels like you are always on-the-go whether physically or mentally. To be your best, you've got to prioritize sleep. That's why we highly recommend taking advantage of the amazing, relaxing benefits of Lavender oil. Try spraying some Lavender Refreshing Spray on your pillow before falling asleep or dabbing some essential oil on your temples to help you unwind after a busy day!
Study Savior Bundle – The ultimate back-to-school bundle! This kit makes an incredible gift for yourself or a loved one who's heading off to school! It's packed with all the good stuff including:
Peppermint Essential Oil Roll-On
Sweet Orange Essential Oil Roll-On
Peppermint Shower Bomb
Sweet Orange Shower Bomb
Peppermint Pucker Stick
Peppermint Skin Stick
Peppermint Refreshing Spray