Gift Guide for the Tween Girl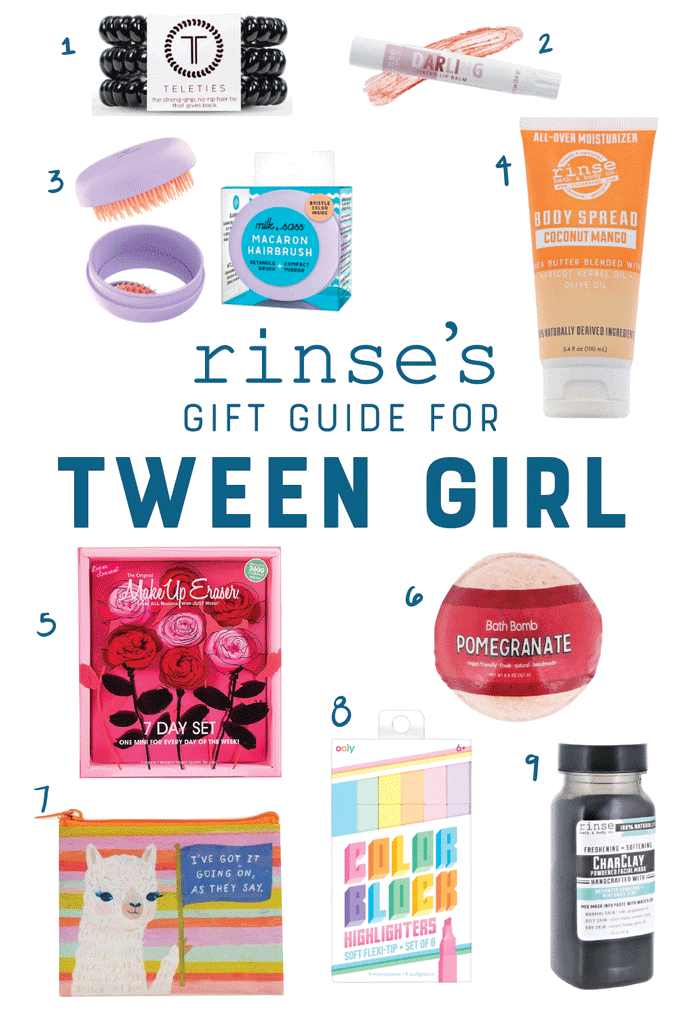 Tween girls- we know 'em, we love 'em, we were them, they're the hardest to buy for, but don't worry, we've got your back!
1. 
Teleties:
What girl isn't always looking for a hair tie? And these are really cute so that's a big plus! The strong grip, no rip hair tie that doubles as a bracelet. Strong, pretty and stylish, Teleties are designed to withstand everyday demands while taking your look to the next level.
(We have some online, but a lot of different options in store! If you want to order, feel free to call our store at 678-635-3720)
2. Tinted Lip Balm: For a soft hint of natural color and lasting moisturizer that goes on light, absorbs easily, and doesn't feel sticky or caked on your lips. These soft but confident swipes of color include the same great recipe as our beloved Pucker Sticks. The perfect starter makeup for a tween! We have three different shades for anyone & everyone.
3. Macaroon Hair Brush: French-inspired travel hairbrush is not only cute, but also smooths knots and detangles hair effortlessly without pulling or causing hair breakage. Great for travel and on-the-go styling, this portable compact hairbrush is practical and multifunctional, and also makes a great unique gift.
4. Body Spread Tube: Lotion that smells like the beach? Perfect. Thick, creamy, luxurious... all perfect words to describe our version of lotion, NOW IN A TUBE! Easy to use & travel friendly. It's blended with Shea Butter & Olive Oil so our Body Spread doesn't lay on the skin thick or heavy, just soaks right in & lasts all day long.
5. Makeup Eraser Set: This cute set comes with 7 mini Make-up Erasers. #1 Sustainable makeup remover in the world. Erase ALL makeup with JUST water! Including waterproof mascara, eyeliner, foundation, lipstick, and more! Use this instead of Cotton Rounds or Makeup wipes and save all of those from ending up in landfills! (We have the larger Makeup Erasers online, but these and a lot more options in store! If you want to order, feel free to call our store at 678-635-3720)
6. Pomegranate Bath Bomb: Bombs away! Our Bath Bomb fizzles in your tub as it quickly dissolves, fragrancing the air and turning your tub a fun pink shade. There is just enough shea butter to lightly moisturize the skin. A light, sweet, fruity scent that's a tad tart at the finish.
7. Fun Zipper Pouch: You know your Tween Girl knows they have it going on, so why not let them fly that flag high and tell the whole world they have it going on! So cute & holds these fun things that they are getting!
8. Color Block Highlighters: These aren't normal highlighters, these are cool highlighters! These uniquely block shaped pastel highlighters with flexible tips provide an effortless way to highlight notes and more.
9. CharClay Powdered Facial Mask: Face masks are a staple of a girl sleepover so it might as well be natural and good for you right? A blend of Activated Charcoal & Bentonite Clay make a dynamic duo to freshen & soften while cleaning your skin of impurities. Our Powdered Facial Masks allow you to customize your mask every time you use them (whether your skin is dry in the winter then well-moisturized in the summer).