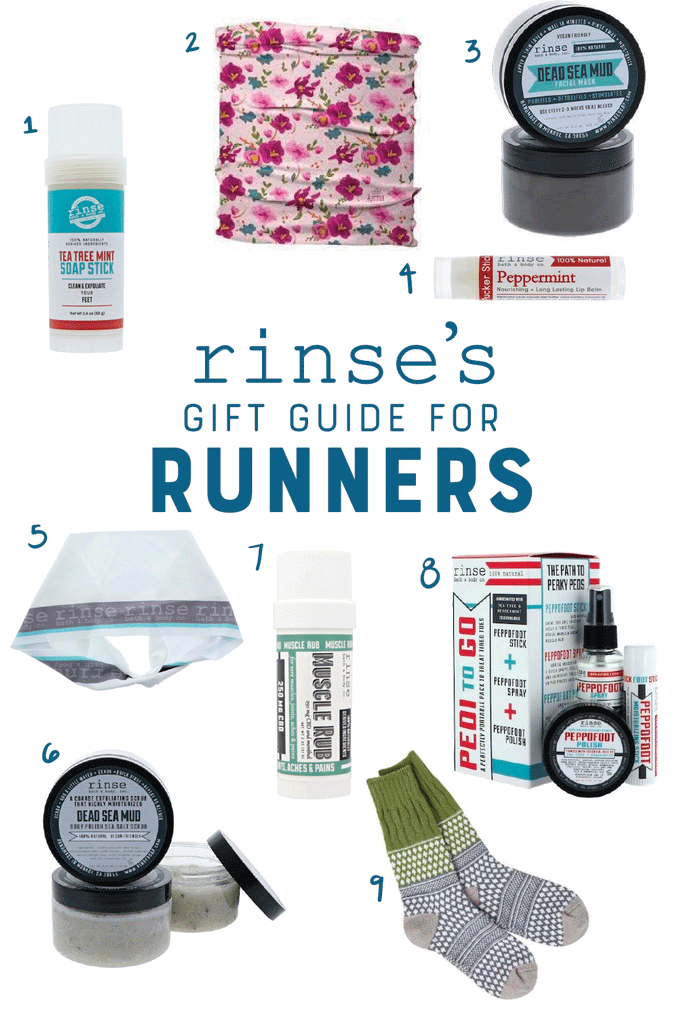 The go-to gifts for the runner in your life (or the person who has a gym bag in their trunk for "one day"). All the products needed for a good sweat, tired toes, well...and just because! 
1. Tea Tree Mint Soap Stick: We took one of our favorite body & foot soaps, Tea Tree Mint Soap, added some powdered Pumice for exfoliation, and put it in a handy twist-up stick for your convenience. Perfect to keep in your home shower, throw in your travel bag, then use again wherever you land! Anywhere you go, now your favorite soap can go, too! What's even better, this container will help your soap last longer than ever! 
2. Floral Headband: These stylish and versatile headbands are just the thing the runner in your life needs to get their hair out of their face and looking great. They can also be used as Face Buffs so if you're running outside, the dirt will stay out of your face!
3. Dead Sea Mud Mask: Sweat and working out can put your skin through the ringer. But never fear! The Dead Sea Mud Mask is here! It strips away impurities but restores your skin with minerals & nutrients that it needs!
4. Peppermint Pucker Stick: If the Runner in your life likes to run outside, the wind & elements can do a number on their lips. Our Pucker Sticks will keep your lips nourished & bonus, Peppermint Essential Oil has properties that helps to protect against the sun.
5. Rinse Bondi Band: You can never have too many amazing headbands.100% American Made and perfect to be worn on their own or under other hats, helmets and visors. Using stretchy, breathable material, allows them to fit virtually every head size and shape. Indoors and in warm weather outdoors, our moisture wicking headbands are great to wick away sweat and in colder weather they are also great to keep ears warm, along with keeping hair back.
6. Dead Sea Mud Salt Polish: Speaking of Dead Sea Mud, this Salt Polish can do the same thing for the feet. Scrub them with this and remove dead skin while restoring them with minerals & nutrients that your skin needs. Even the skin on your feet!
7. Muscle Rub*: Give your overworked muscles some TLC with our easy-to-use topical treatment for sore muscles, joints, aches, & pains. Our Muscle Rub includes Menthol and Wintergreen for a cooling sensation on the skin. (*Muscle Rub is not available on the website but call our store at 678-635-3720 to order some today!)
8. Pedi-to-Go Kit: Runners put their feet through a lot. Give their feet some love with our Peppofoot collection of products! We have everything you need to keep their feet looking great and feeling soft! Use our Peppofoot Polish to exfoliate, Peppofoot Stick to moisturize, and Peppofoot Refreshing Spray to cool and refresh tired tootsies!
9. Cozy World's Softest Socks: The name is absolutely accurate! Like we said, runners put their feet through a lot so give them a little bit of cozy for their feet on their off days! Bonus tip- Put on the Peppofoot before bed, then put on these socks for ultimate soft feet.