Gift Guide for The Stressed Mom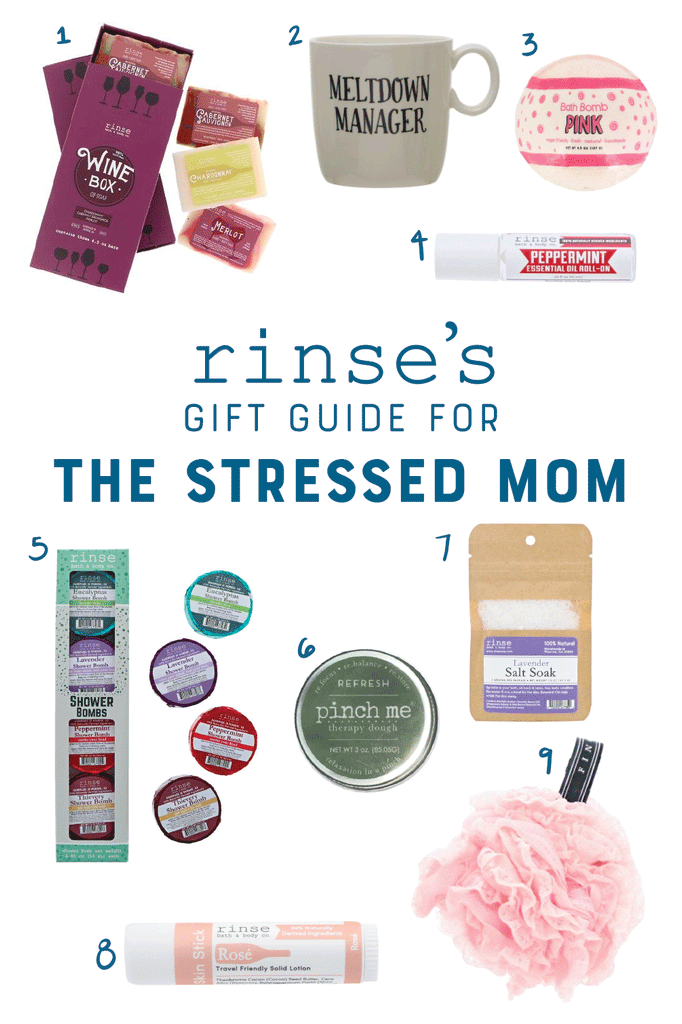 Bring the spa to the mom in your life.  Adding everyday luxury to the ordinary! 
1. Box of Wine Soap Set: Enjoy winding down with a good glass of wine? Now you can savor that treasured experience day or night with this luxurious box of wine soaps. Stock these at-home bars in your shower or tub and drink in the surprising skin-soothing benefits of wine-inspired soap. 
2. Meltdown Manager Mug*: This holder of this title is in need of a raise ASAP! Manage those meltdowns with a little help from our friend Caffeine. (*This mug is not available online but if you would like to order, feel free to call our store at 678-635-3720)
3. Pink Bath Bomb: Our Pink scent is very warm and decadent holding sweet notes of vanilla carried with a warm buttery scent. It's almost good enough to eat! Perfect stocking stuffer for a self care night for the stressed mom in your life!
4. Peppermint Roll-On: Peppermint Essential Oil is known to help with headaches & to increase focus. We know stressed moms need that now more than ever!!
5. Shower Bomb Assorted 4 Pack: Why choose just one Shower Bomb when you could get a box with 4 of your favorites!? Our 4 Pack Assorted Shower Bomb Box includes 4 of our most popular scents: Eucalyptus, Lavender, Peppermint, and Thievery! Each of these unique shower bombs is made with essential oils that will energize, invigorate, promote wellness, or even relax you depending on which one you are using!
6. Pinch Me Therapy Dough: A squishable compound that's designed to channel relief through the senses, naturally. While it can't take away all that ails you, it can help get you back to center so you're able to face your stressors with the clarity that comes from renewed focus.
7. Lavender Salt Soak: Another perfect stocking stuffer. A blend of sea salts & Epsom salts will help to soothe over-worked, sore & tired muscles all while they help to condition the skin. Plus Lavender is a relaxing scent so it's the best duo!
8. Rosé Skin Stick: A little treat to keep around all the time. They can keep in their purse, office, nightstand, anywhere, so that they can keep their skin nourished all the time. 
9. Pink Loofah: Take Self-Care night to the next level! Lacy Loofahs are extra-poofy for more lather! Designed with a convenient loop for easy handling, they help slough away dead skin, leaving you with a soft, smooth glow.