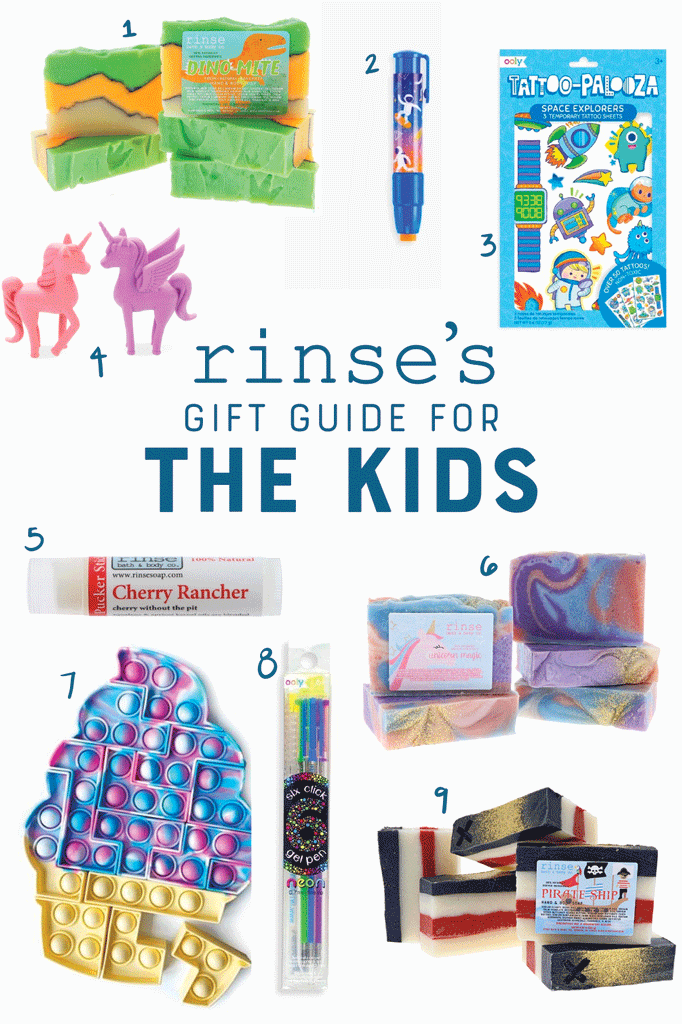 Unique gifts for the little one in your life! All the fun and colorful gifts that you can find in the wonderful world of Rinse - Pop It's, Stickers, Soap, Scented Erasers galore! 
1. Dino-Mite Soap: You thought natural soap was just for adults but not anymore! Dino Soap will make your kids ready for bath time & we know you want that! Plus, it smells like fruity pebbles so that's just plain fun. 
2. Click it Erasers: Not only are they fun to look at & great if your kid goes through erasers too quickly. They also Smell good!! That's so fun & a cute stocking stuffer at only $2! It doesn't get any better than that!
3. Tattoos: Show off your wild side with Tattoo-Palooza temporary tattoos. These temporary tattoos are easy to apply, and remove - and (!!) can last up to 5 days.
4. Unicorn Erasers*: This pair of pink and purple unicorns aren't just any ordinary unicorns; they have the magical powers of erasing and the sweet scent of cotton candy! The Unicorn BFF Erasers are a set of 2 cute scented erasers that are waiting to be your BFFs, too. Unicorns that are BFFs? What more could you want? (*These erasers are not available online but if you would like to order them, feel free to call our store at 678-635-3720)
5. Cherry Rancher Pucker: Adults aren't the only ones that get chapped lips. Get your kids a Pucker Stick that tastes like a Cherry candy!!
6. Unicorn Soap: It's pink, blue, and white, covered in gold glitter, and smells exactly like a cloud made of cotton candy. Whether you are a unicorn lover, a little kid, or just like to smell good, this bar of soap has got you covered. 
7. Pop Fidgety Puzzle: We know you've heard of Pop Fidgetys by now. Your kids probably have one already (or more than one…) but this one is different! The fun bubble popping fidget toy that doubles as a puzzle!
8. 6 Click Gel Pen: If you (or your kids)  like colored gel pens then you are in for a real treat. The 6 Click Gel Pen is a super useful, multi-color pen with gel ink. Lots of colors makes homework or real work super fun!! 
9. Pirate Soap:  Being a pirate is dirty business, but you can scrub the deck (and skin) with the only soap made for true, Old Salty Mateys.  With a wee speck-a-GOLD, who can resist this here treasure? Beware... smells like candy I hear!