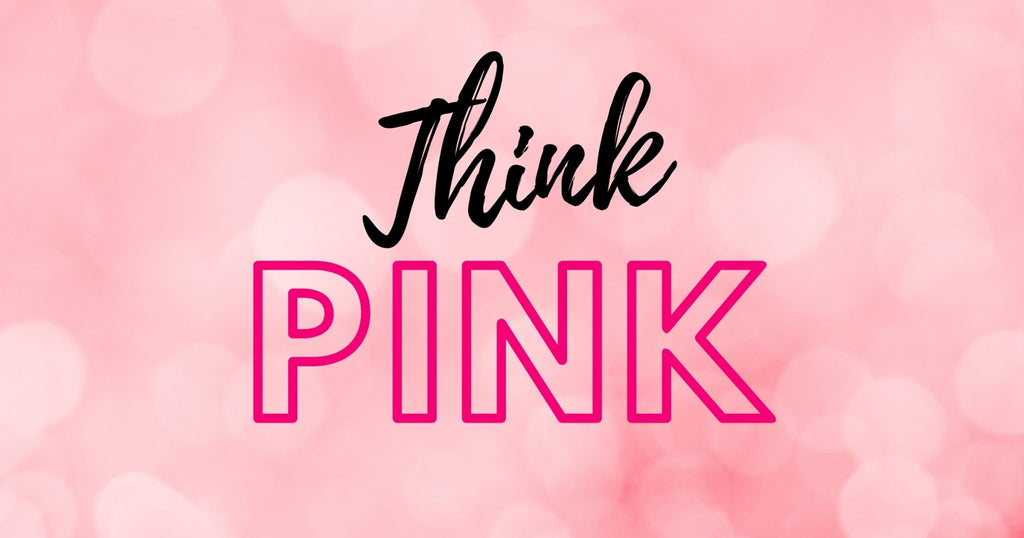 It's October which means it's Breast Cancer Awareness month and, here at Rinse, this is the time of year when we like to think pink for a wide variety of reasons! As you probably already know, breast cancer is an extremely common form of cancer. In the U.S., 1 in 8 women (13%) will develop breast cancer at some point in their lives, and there are currently 3.8 million women in the U.S. with a history of breast cancer. That's a lot of women! Dealing with this disease not only effects the women who have it, but also their network of friends, family, and loved ones who are by their side through diagnosis, treatment, and ideally recovery! It's very likely that you are or know someone who has been affected by this horrible disease. While the statistics on breast cancer can be overwhelming, the statistics on how strong and resilient women are can be encouraging and a cause for great optimism in this battle!
That's why we love that the color used to symbolize breast cancer awareness is PINK! It's commonly seen in the form of pink ribbons - either actual ribbons or images of pink ribbons added to all kinds of products from coffee cups to socks! Did you know that this pink ribbon phenomenon is actually relatively new though? And that the first ribbons used to bring awareness to breast cancer weren't actually pink?
A Little History of the Pink Ribbon
As it turns out, the first use of ribbons for breast cancer occurred in 1991 when a woman named Charlotte Haley began making peach-colored ribbons in her home and attaching them to postcards that brought awareness to others about how only 5% of the $1.8 billion dollar annual budget for the National Cancer Institute actually went to breast cancer. She asked people to wear the ribbons and to take action by contacting their legislators to try and get more of the budget allocated to breast cancer. She distributed her ribbons through a totally grassroots effort, handing them out at local stores and even sending them to prominent women such as former First Ladies. Her movement gained traction, which then gained the attention of two large companies, Self Magazine & Estee Lauder. These companies reached out to Charlotte to see about working together to brand the ribbon, but she was uninterested in working with such large corporations. At that point, these companies recognized that they could change the color of the ribbon and move forward with branding without Mrs. Haley's permission and that is where the pink ribbon was born.
Pink ribbons were also embraced by the Susan G. Komen Breast Cancer Foundation (now known as Komen for the Cure) who has actually used the color pink in its logo since it was created back in 1982. In fact, the original logo featured an abstract female runner outlined with a pink ribbon. The ribbon was used in a big way in 1991 when pink ribbons were distributed to the participants of the Komen New York City Race for the Cure®. Since the 90's, the pink ribbon and the color pink have only grown in popularity when it comes to symbolizing breast cancer awareness. We are huge fans of this fun, girly color and we are huge advocates of breast cancer awareness which is why we are focusing on all things pink this month!
Think Pink
Our line of "Pink" products were created with the idea of making products that are fun, girly, and smell like the color pink (if colors had smells!). We've got an awesome line up of Pink products that we know you're going to love! Check them out and snag some for yourself, or consider sending a Pink product (or bundle!) to a survivor! What better way to brighten their day and let them know you are thinking of them than with some fun Pink Rinse products!?
Pink Stick – If you've ever tried one of our Skin Stick's, then you already know what the hype is all about! Our Pink Stick is a solid lotion formula and melts right into your skin, just where you need it. Nourish your knees, feet, hands, elbows... anywhere you feel dry or are constantly applying lotion.
Pink Body Spread – When you're in the mood to treat your skin to something that's thick, creamy, amazingly luxurious, and smells like a dream then Pink Body Spread is for you! This ultra-moisturizing body spread will keep your skin feeling baby-soft while leaving you smelling amazing with light, warm, vanilla tones! 
Pink Bath Bomb – Say hello to fizzy & fun luxury with our Pink Bath Bomb! Drop one in your bath to watch it fizzle away, quickly dissolving and releasing the delicious, warm, vanilla fragrance as well as moisturizing shea butter that will leave your skin soft and hydrated!
Pink Tub Truffle – It's called a truffle and it's pink, so it has to be amazing, right!? This fun little tub truffle is an absolute treat! Drop one in your next bath and watch it melt away along with your cares while you enjoy the moisturizing Cocoa Butter that is released into your bath! 
Pink Body Bliss Oil - There's nothing quite like a spritz of our Pink Body Bliss Oil to leave your skin feeling moisturized and refreshed! This oil features the same warm, buttery, vanilla scent as all our other Pink products!
Our fun lineup of Pink products make perfect gifts for yourself or for loved ones! Stay tuned next week to learn more about Pink products and how a portion of proceeds are poured back into our local community through a non profit that is near and dear to our hearts!